Radar Movers: Sony Avoids Market Sell-Off With PS4, Yum! Brands and Lululemon Decline
Shares of Yum! Brands (NYSE:YUM) declined 1.4 percent in late afternoon hours. The restaurant-chain reported that its May same-store sales in China plunged 19 percent, citing the Avian flu scare as a major reason.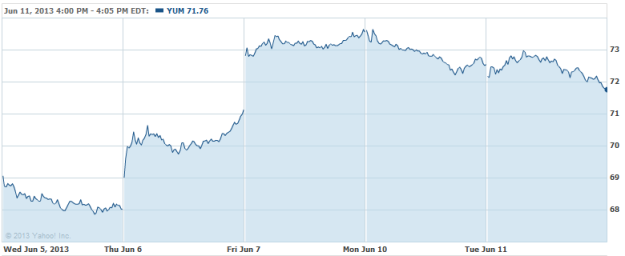 Lululemon Athletica (NASDAQ:LULU) shares sank 17 percent on Tuesday and continued to edge lower in late afternoon trading. The yoga apparel company recently announced better-than-expected financial results for the first quarter. However, Christine Day will step down as the chief executive officer after more than five years in the role. "Being a part of Lululemon for the past five and a half years has been an incredible journey. I am proud of building a world class team that has produced one of the best growth, brand and profit stories in retail," said Ms. Day. "Plans have been laid for the next five years and a vision set for the next ten."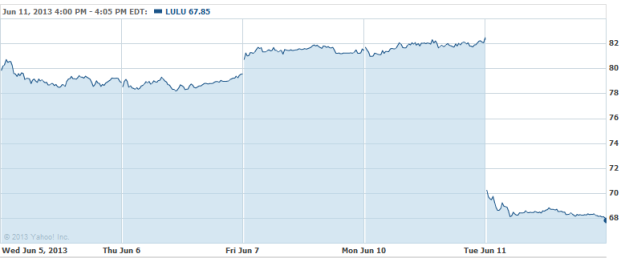 Shares of Sony (NYSE:SNE) dodged the broad market sell-off, as they gained nearly 1 percent on Tuesday. The company unveiled more details about the PS4 late Monday, which comes with a price tag of $399, compared to Microsoft's (NASDAQ:MSFT) $499 price tag on the Xbox One. Many believe Sony has already won the next console war.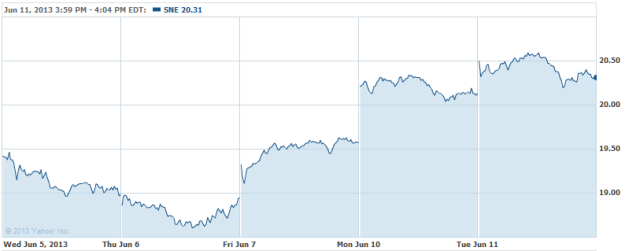 Apple (NASDAQ:AAPL) shares held relatively steady on Tuesday. The tech giant failed to impress investors at WWDC, but it did not exactly disappoint either. WWDC Recap: Apple introduced the overhauled iOS 7, and Jony Ive has applied his trademark clean aesthetic to the software with changes to the fonts, colors, layout, et al. iTunes Radio was released, and although supported by ads, it will be ad-free for iTunes Match subscribers. Two new Macbook Airs have been debuted, in 11 inch and 13 inch formats, the latter of which supposedly boasts 12 hours of battery life. Apple updated OS X, now called Mavericks, which sports over 200 new features. The company also completely redesigned the Mac Pro.

Don't Miss: Need a Job? Restaurants Are Hiring Like Crazy
Follow Eric on Twitter (@Mr_Eric_WSCS)