Radar Movers: Tech Names on the Move, Except for Apple
Shares of Facebook (NASDAQ:FB) slipped 0.83 percent on Thursday, but shares are catching a bid in late afternoon trading. The social media company received multiple downgrades as it expects to ramp up spending this year. Due to hiring and investment plans, Facebook expects total expenses to grow in the neighborhood of 50 percent in 2013. Mark Zuckerberg, chief executive officer, explains, "We made the decision to continue to grow our headcount quickly in 2013, particularly in product development. This will likely cause our expenses to grow at a faster rate than we expect to grow our revenue this year. This means that we aren't operating to maximize our profits this year." Zynga (NASDAQ:ZNGA) also traded lower in late afternoon trading.
Research in Motion (NASDAQ:RIMM) shares suffered another rough day and continue to edge lower in late afternoon hours. The company recently made its first product launch in 18 months with a redesigned operating system and two new phones, the Z10 and the Q10. RIM is also changing its corporate name to BlackBerry, signaling a last ditch effort to gain market share in the smartphone industry. Evercore Partners also downgraded the firm from Equal Weight to Underweight.

Shares of Apple (NASDAQ:AAPL) continue to remain near the $450 level. The company's appeal to revive its attempt to ban U.S. sales of Samsung's (SSNLF.PK) Galaxy Nexus smartphone has been denied. The appeal was related to a case that's pending and goes to court in March 2014. However, Apple had asked the Federal Circuit Court of Appeals in Washington D.C. to take a second look at an earlier ruling that rejected its request for a sales ban.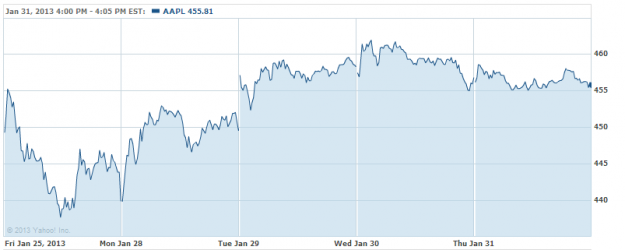 NetSuite (NYSE:N) shares jumped more than 8 percent after posting better-than-expected quarterly results. The company announced a net loss of $9.6 million (13 cents per share), compared to a net loss of $7.6 million (11 cents per share) a year earlier. Excluding items, NetSuite earned 6 cents per share, topping expectations by 2 cents.

Investor Insight: Consumers Are Still in Survival Mode