Radar Movers: Tesla Drops 6%, Apple is Still the Cash King
Wells Fargo (NYSE:WFC) shares continued to decline in late afternoon hours. New York Attorney General Eric Schneiderman recently said he is bringing a lawsuit against Wells Fargo for its alleged failure to comply with the terms of the $25 billion national mortgage settlement from last year. At the same time, he also said he was dropping the suit against Bank of America (NYSE:BAC) regarding similar complaints, since that bank has agreed to improve its practices. Schneiderman announced in May that he intended to sue the two banks for not adhering to servicing standards set by the mortgage settlement in early 2012 to help borrowers in trouble.

Shares of Facebook (NASDAQ:FB) edged slightly lower on Wednesday as they continue to take a breather around $50. Jantrain released the results of its quarterly study on which social networks people use to log in to third party sites, which is known as using a social login, a technique that Jantrain pioneered. Predictably, Facebook maintained its number one spot in the third quarter of 2013, but data shows that Facebook's dominance in social login is being eaten away by other social networks that have begun offering social login as well.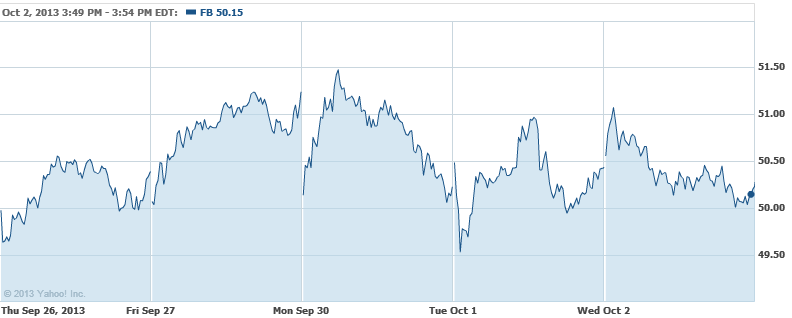 Shares of Tesla Motors (NASDAQ:TSLA) plunged more than 6 percent on Wednesday and continued to edge lower in late afternoon hours. R.W. Baird's Ben Kallo downgraded his rating on the electric car maker from Outperform to Neutral on Wednesday morning, voicing concern about Tesla's short-term prospects. Kallo recognizes that Tesla's stock has risen more than sixfold over the past 12 months, but he believes the stock's appreciation can be attributed to the company's "flawless execution," which, if interrupted, could pose significant stock price risk.
Apple (NASDAQ:AAPL) shares managed to close slightly in the green on Wednesday. An analysis conducted by Moody's suggests that Apple, already the largest publicly traded company, claims nearly 10 percent of all corporate cash held by non-financial companies. That comes out to about $147 billion out of the $1.48 trillion held by over 1,000 companies analyzed by the ratings and investors services firm. Apple keeps about $106 billion of its cash hoard offshore.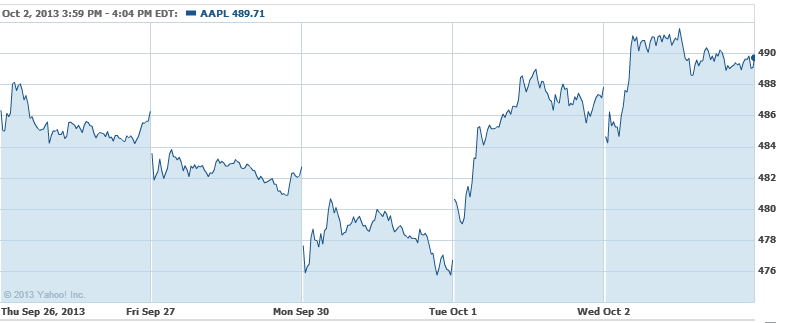 Don't Miss: Top 10 States With Skyrocketing Home Prices
Follow Eric on Twitter @Mr_Eric_WSCS