Radar Movers: Tesla Receives 5-Star Rating, Apple Could Easily Expand Buyback
Shares of Analog Devices (NYSE:ADI) fell 2.3 percent in late afternoon hours. The company reported quarterly earnings of 57 cents per share, beating estimates calling for 54 cents per share. However, revenue guidance was slightly weaker than expected. "There are signs that a gradual recovery in the macroeconomic environment is underway and we are in a strong position to benefit from the return of capital investments in communications and industrial infrastructure programs. As a result our outlook for the fourth quarter is for our sales to grow in the range of $675 million to $700 million, up from $674 million in the third quarter," said Vincent Roche, president and chief executive officer.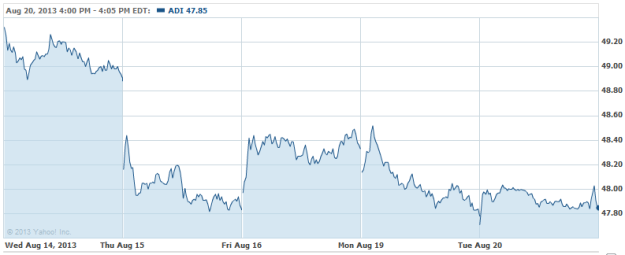 Barnes & Noble (NYSE:BKS) shares plunged 12.4 percent on Tuesday and continued to edge lower in late afternoon hours. The book retailer reported earnings that were disappointing. The company's fiscal first quarter revenue fell 8.5 percent to $1.3 billion, coming in just below analyst estimates of $1.32 billion. Consolidated earnings before interest, taxes, depreciation and amortization (EBITDA) showed a loss of $8.9 million versus earnings of $5.8 million in the fiscal first quarter of last year.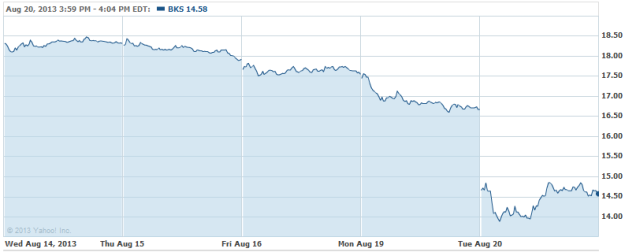 Shares of Tesla Motors (NASDAQ:TSLA) drove 3.2 percent higher on Tuesday and continued to edge higher in late afternoon trading. Tesla's Model S sedan has received a perfect 5-star safety crash test rating from the National Highway Traffic Safety Administration, giving the company yet another addition to its trophy case. Only 1 percent or so of all cars tested by the federal government achieve 5 stars across the board. "The Model S has the advantage in the front of not having a large gasoline engine block," StreetInsider reports. "Thus creating a much longer crumple zone to absorb a high speed impact." Other automakers, such as Ford Motor (NYSE:F) and General Motors (NYSE:GM) also gained about 1 percent.

Apple (NASDAQ:AAPL) shares dipped 1.3 percent on Tuesday, but are up slightly in late afternoon hours. Analyst Chris Whitmore of Deutsche Bank recently told Apple Insider that if Apple increased its share buyback plan by another $50 billion at an average price of $500, it would add about $4.25 in earnings per share for the company's fiscal year 2014. That represents an increase of about 10.5 percent over the year. Whitmore also believes the additional $50 billion buyback could be self-funding, since Apple's interest expense on debt needed for the increase would only be about $1 billion — which would be offset by a reduction in dividend payments on the retired shares.

Don't Miss: How Many Americans are Saving More for Retirement?
Follow Eric on Twitter @Mr_Eric_WSCS