Yahoo! (NASDAQ:YHOO) shares jumped 1.8 percent in late afternoon hours. Yahoo announced it increased its share buyback authorization by $5 billion. Yahoo explained, "In connection with the pricing of the notes, Yahoo intends to enter into privately negotiated convertible note hedge and warrant transactions with one or more of the initial purchasers or their affiliates or other financial institutions (the "option counterparties"). The convertible note hedge transactions will give Yahoo the right to purchase the same number of shares of common stock as underlies the notes and are expected generally to reduce the potential dilution with respect to Yahoo's common stock upon conversion of the notes and/or to offset any cash payments Yahoo is required to make in excess of the principal amount of converted notes, as the case may be."

Shares of Tesla Motors (NASDAQ:TSLA) bounced 3.7 percent higher on Tuesday and continued to gain about 1 percent in late afternoon hours. After much speculation, the National Highway Traffic Safety Administration announced that it has opened a formal investigation into the three Tesla Model S battery fires that occurred over a five-week period between October and November. However, Tesla CEO Elon Musk responded to critics on Twitter. He said, "Why does a Tesla fire with no injury get more media headlines than 100,000 gas car fires that kill hundreds of people per year." He also announced that Tesla would extend the Model S warranty coverage for any fire damage, even if it's the driver's fault.

La-Z-Boy (NYSE:LZB) shares surged more than 6 percent in late afternoon hours. La-Z-Boy reported quarterly earnings of 30 cents per share, topping estimates calling for 26 cents per share. La-Z-Boy also raised its quarterly dividend by 50 percent to 6 cents per share. "Our performance for the quarter reflects the successful execution of our sales, merchandising and integrated retail strategies as well as the efficiencies with which we are running our operations," said La-Z-Boy CEO Kurt Darrow. "We believe our positive sales trajectory is indicative of continued market share gains, and with the strength of the La‑Z‑Boy brand, our vast distribution network and our lean manufacturing structure, we are well positioned for future profitable growth."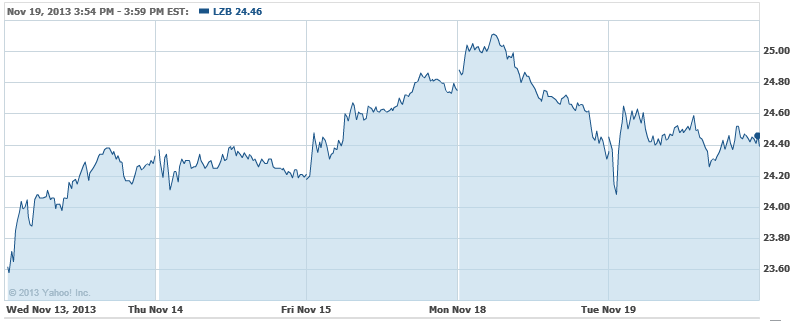 Shares of Apple (NASDAQ:AAPL) edged slightly higher on Tuesday. Apple has the option to seek a block on Samsung (SSNLF.PK) products after the latest bout in the patent war between the two tech giants. However, in order to implement the ban on Samsung's products, Apple must prove that the features in question were a factor that customers used in choosing which smartphone to buy, though it doesn't have to show that it was the single driving factor, the court said in its decision.

Don't Miss: Will Americans Feast on Inflation This Thanksgiving?
Follow Eric on Twitter @Mr_Eric_WSCS