Radar Movers: Tesla Responds to Fire Incident, J.C. Penney Stuck in Death Spiral
Shares of Goldman Sachs (NYSE:GS) closed in the red on Friday. Sources tell Bloomberg that the bank accidentally used the wrong Treasury note as a benchmark for the offering of $1 billion worth of five-year 2.875-percent notes from Ford Motor's (NYSE:F) finance unit, adding about $1.5 million in extra interest to the cost of the offering. Goldman charged Ford a lower fee on the sale in order to compensate for the mistake — the car maker reportedly paid just 0.25 percent to underwrite the bonds, as opposed to 0.35 percent.

J.C. Penney (NYSE:JCP) shares plunged 6.5 percent on Friday and continued to decline in late afternoon hours. In fact, J.C. Penney closed below $8 per share to reach its lowest level in about 30 years. Earlier in the week, liquidity concerns prompted Goldman Sachs to raise red flags. "Weak fundamentals, inventory rebuilding, and an underperforming home department will likely challenge J.C. Penney's liquidity levels in the third quarter," wrote analyst Kristen McDuffy in a note seen by Bloomberg.

Apple (NASDAQ:AAPL) shares closed relatively flat on Friday. In a recent note to investors, Piper Jaffray analyst Gene Munster reported that nearly every Apple Store has some version of the iPhone 5S available. This contrasts with last year's availability of the iPhone 5, when there was "essentially zero" iPhone 5 availability at most stores during the second week after the initial launch. Munster checked the availability of all versions of the AT&T (NYSE:T), Verizon (NYSE:VZ), and Sprint (NYSE:S) "space gray" iPhone 5S at 60 different Apple Stores on October 2 and October 3. Shares of Apple have declined about 9 percent year-to-date.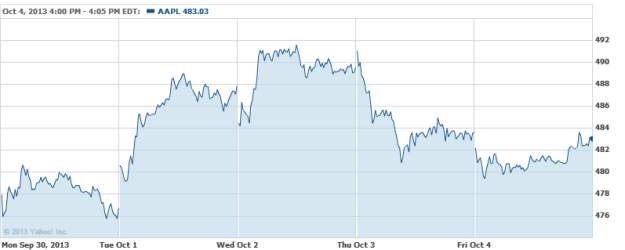 Shares of Tesla Motors (NASDAQ:TSLA) gained 4.4 percent on Friday and continued to edge higher in late afternoon trading. Tesla CEO Elon Musk addressed the recent Model S fire in a company blog entry. He writes, "It is important to note that the fire in the battery was contained to a small section near the front by the internal firewalls built into the pack structure. At no point did fire enter the passenger compartment. Had a conventional gasoline car encountered the same object on the highway, the result could have been far worse." The electric car performed as expected, and Musk even included comments from the driver involved in the incident. The driver is still a "big fan" of Tesla and looks "forward to getting back into one."

Don't Miss: 5 Vital Steps to Protect Your Finances from Government Shutdowns
Follow Eric on Twitter @Mr_Eric_WSCS