Radar Movers: Tesla Rolls Out Lease Program, Apple and Facebook Edge Higher
Shares of Tesla Motors (NASDAQ:TSLA) dipped almost 1.0 percent in late afternoon trading. The company announced a new leasing program for its Model S electric car. U.S. Bank and Wells Fargo will provide 10 percent down financing, and drivers will have the right (but not obligation) to sell their vehicle after 36 months to Tesla. The company explains, "Tesla has been able to create a new kind of financing product that combines the surety and comfort of ownership with all the advantages of a traditional lease. Like the Model S, this product was created from the ground up to provide maximum benefit to consumers, rather than simply duplicating other financing programs that tend to favor companies at the expense of the individual."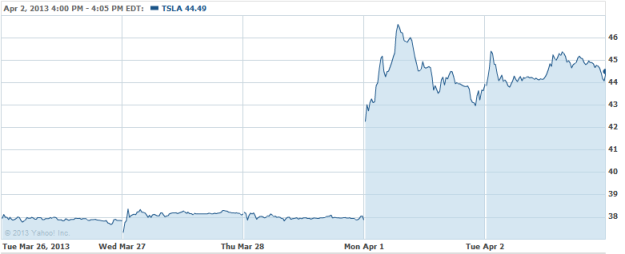 After slipping nearly half a percent on Tuesday, Facebook (NASDAQ:FB) shares edged slightly higher in late afternoon hours. Sheryl Sandberg, the chief operating officer for the social-media giant, may be subject to a deposition hearing in a lawsuit against several prominent companies that alleges the firms broke antitrust laws by agreeing not to hire from each other. Plaintiffs argue their discovery has confirmed that senior officers at the companies personally entered into non-solicitation agreements to eliminate competition for each other's employees, kept the pacts hidden from the workers, supervised the implementation of the plans and policed each other, Bloomberg said. The lawyers representing the plaintiffs urged Judge Koh to allow them a deposition after a March 29 deadline, because Sandberg and Facebook did not respond to an earlier subpoena.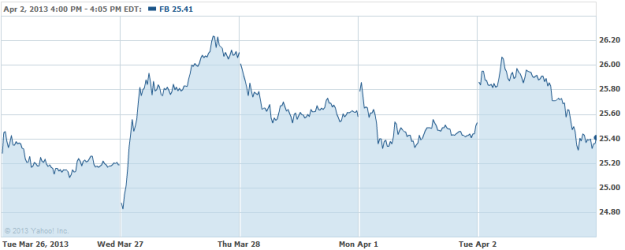 Vodafone Group (NASDAQ:VOD) shares plunged more than 3 percent in late afternoon trading. After more rumors of Verizon (NYSE:VZ) buying the company hit headlines Tuesday, Verizon issued a statement denying any deal was currently in the works. "As Verizon has said many times, it would be a willing purchaser of the 45 percent stake that Vodafone holds in Verizon Wireless. It does not, however, currently have any intention to merge with or make an offer for Vodafone, whether alone or in conjunction with others."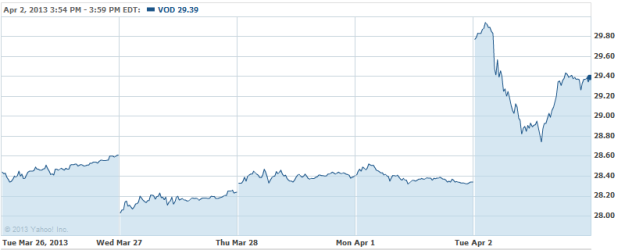 Shares of Apple (NASDAQ:AAPL) edged slightly higher on Tuesday and continue to attract attention in late afternoon trading. According to a report published in the SF Examiner, Apple's government liaison, Michael Foulkes, told San Francisco District Attorney George Gascón that the next two generations of iPhones were designed before Steve Jobs' death. Apple shares also managed to climb higher news that Goldman Sachs removed the tech giant from its conviction buy list.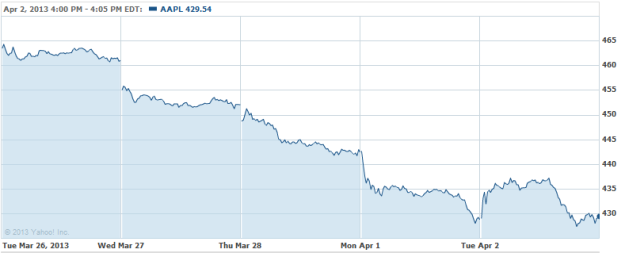 Don't Miss: Are These the 5 Best Stocks for Earnings Season?