Shares of TiVo (NASDAQ:TIVO) increased 1.2 percent in late afternoon hours. The company reported better-than-expected quarterly earnings. Net income came in at $268.9 million, or $1.96 per share. Excluding items, TiVo lost 9 cents per share, topping estimates for a 10-cent loss. Tom Rogers, TiVo President and CEO, said, "TiVo has now reached a very important milestone. After making significant progress over the last several years, amid scrutiny for not being net income profitable, we believe TiVo has now achieved the milestone of sustained net income profitability."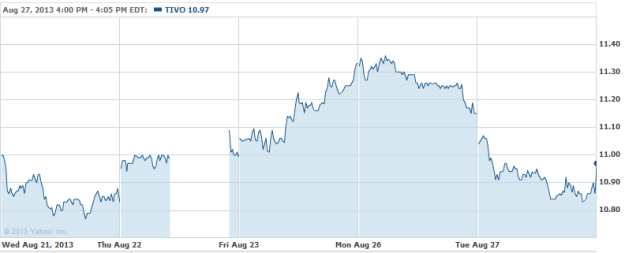 J.C. Penney (NYSE:JCP) shares fell 1.4 percent on Tuesday, but edged slightly higher in late afternoon hours. Hedge fund manager Bill Ackman finally decided to sell his entire position in the struggling retailer. Ackman's very public disagreement with J.C. Penney's chairman, Thomas Engibous, and other members of the board of directors over the leadership of current CEO Mike Ullman ended with Ackman's resignation from the board.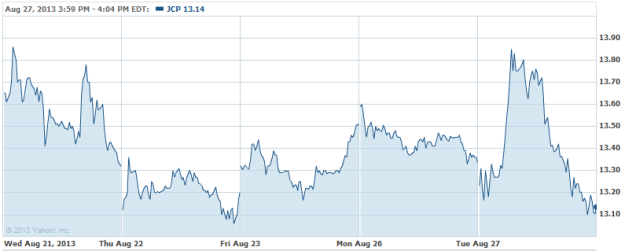 Shares of Starbucks (NASDAQ:SBUX) dipped 2.4 percent on Tuesday, despite new developments in its juice business. Thanks to this power couple, consumers should expect to find Evolution Fresh juices and Evolution Harvest snack bars in their local Whole Foods (NASDAQ:WFM) stores the next time they need to make a visit. According to The Wall Street Journal, Starbucks has officially teamed up with Whole Foods to sell its line of Evolution Fresh juices and Evolution Harvest snacks.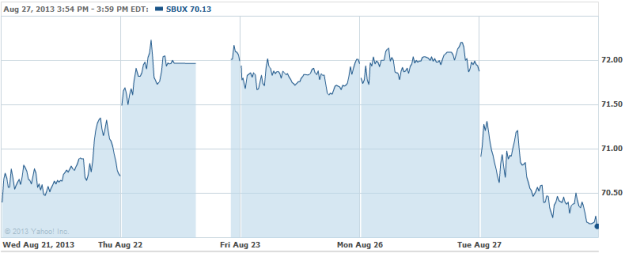 Amid a broad market pullback, Apple (NASDAQ:AAPL) shares fell almost 3 percent on Tuesday to close below $500. According to a report from TechCrunch, the tech giant has started a trade-in iPhone program at certain Apple stores. A source who spoke to TechCrunch said the program has been quietly going on for several weeks and won't be offered at all locations. A customer can bring in an undamaged older iPhone, which is then evaluated by Apple employees; the value they determine the device is worth is put on a gift card, which can then be used toward the purchase of a new iPhone.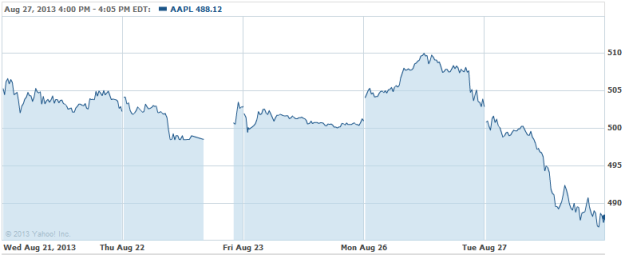 Don't Miss: Don't Let Confusion Ruin Your Retirement Chances
Follow Eric on Twitter @Mr_Eric_WSCS