Radar Movers: Twitter Reveals IPO Details, Apple and Tesla Trade Lower
Apple (NASDAQ:AAPL) shares dipped 1.3 percent on Thursday and continued to edge slightly lower in late afternoon trading. Despite mostly positive reviews from analysts and consumers, Qualcomm is taking shots at Apple's 64-bit iPhone 5S chip, saying it actually does very little for consumers. In an interview with TechWorld, Qualcomm Senior Vice President and Chief Marketing Officer Anand Chandrasekher said: "I know there's a lot of noise because Apple did [64-bit] on their A7. I think they are doing a marketing gimmick. There's zero benefit a consumer gets from that."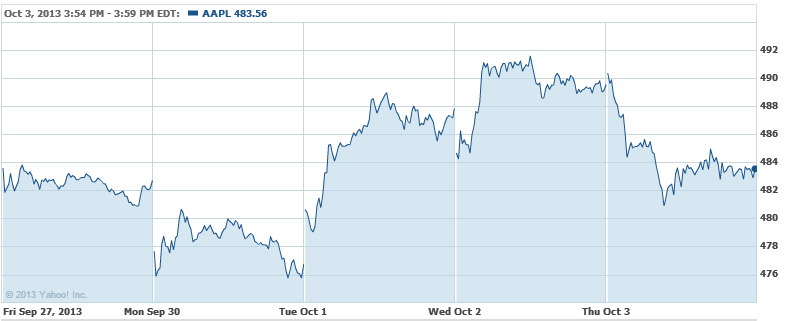 Shares of Citigroup (NYSE:C) closed in the red on Thursday. A securities regulator announced Thursday that Citi will pay a $30-million penalty after one of its analysts improperly transmitted confidential research on an Apple vendor to large clients, among which include Steven A. Cohen's hedge fund SAC Capital Advisors. Analyst Kevin Chang at Citigroup  emailed unpublished research concerning Hon Hai Precision Industry Co. — which is a major supplier of Apple Inc. iPhones — to SAC, T. Rowe Price, Citadel, and GLG Partners, said Massachusetts' Secretary of the Commonwealth William Galvin.

Shares of Tesla (NASDAQ:TSLA) dropped 4.2 percent on Thursday and continued to edge lower in late afternoon hours. Tesla has taken a hit since the electric car maker was downgraded by R.W. Baird analyst Ben Kallo on Wednesday and a video of a Tesla Model S catching on fire after an accident was posted on YouTube. According to a statement from Tesla seen by USA Today, the fire did not reach the cabin of the vehicle and no injuries were caused by the accident. Kallo said his decision to downgrade the stock from Outperform to Neutral was caused by significant risks he sees the company facing in the next year-and-a-half, although he remains optimistic about Tesla long-term.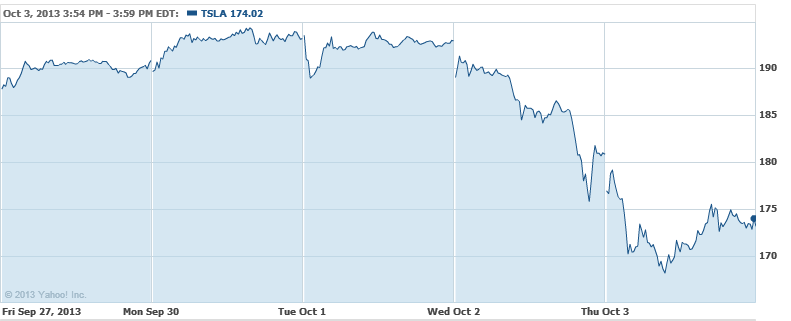 Twitter made its S-filing available to the public after the closing bell. The company aims to raise $1 billion and trade under the ticker symbol TWTR. The social media company reveals its revenue surged 198 percent from 2011 to 2012 to $316.9 million. As of the end of June 2013, Twitter has 218 million monthly active users. At the end of the second quarter, 75 percent of the monthly users accessed Twitter from a mobile device, including mobile phones and tablets, and over 65 percent of advertising revenue came from mobile devices. Shares of GSV Capital (NASDAQ:GSVC), an early investor in Twitter, jumped more than 3 percent after the public disclosure.

Don't Miss: 5 Vital Steps to Protect Your Finances from Government Shutdowns
Follow Eric on Twitter @Mr_Eric_WSCS