Radio Wars: Google 1, Apple 0
Google (NASDAQ:GOOG) surged past its Cupertino-based tech rival in the music streaming service race when it unveiled its Play Music All Access service earlier this week. Meanwhile, Apple's (NASDAQ:AAPL) "iRadio" debut is being held up as the company struggles to deliver a palatable royalty deal to several large music record labels.
According to The Verge, Apple's talks with Sony/ATV – the largest music publisher – are still ongoing. Sony/ATV is jointly owned by Sony (NYSE:SNE) and the estate of Michael Jackson. Apple has also failed to reach a deal with the fourth largest music publisher, BMG Rights Management. Unfortunately for Apple, all signs seem to indicate that it will not have its "iRadio" service ready in time for this year's Worldwide Developers Conference that starts June 10 in San Francisco.
So why is the iTunes creator having so much trouble getting its music streaming service started? Apple may have started off on the wrong foot with the music publishing industry by lowballing its original royalty offer. After initially offering 6 cents per 100 songs, Apple increased its offer to 12.5 cents. Internet music streaming service Pandora (NYSE:P) currently pays a fee of 12 cents per 100 songs. The typical industry standard is 21 cents per 100 songs.
Another obstacle for Apple is the sheer novelty of its music streaming service. Google's Play Music All Access service resembles a standard subscription music service like Spotify. In this sense, there was already a precedent established for how much Google should pay the music publishers. Apple's proposed music streaming service aims to combine elements of Pandora's ad-based service along with some on-demand features. Naturally, since there is no identical service to reference, it is harder for the parties to come to a mutual agreement.
Finally, some observers also suspect that Apple's refusal to pay a standard advance to the music publishers has held up the negotiations. Apple is instead offering a royalty per individual song played, a percentage of any advertising revenue, and a guaranteed minimum payout no matter how many songs get played or ads sold.
Apple already has an enormous base of daily users, a large ecosystem, and an established commerce infrastructure for selling music through its iTunes store. In this sense, it comes to the negotiating table with considerable benefits for the music publishers. On the other hand, the music publishers know that the longer they hold out, the more Apple falls behind its competitors such as Google.
Here's how Apple and Google have traded so far this week.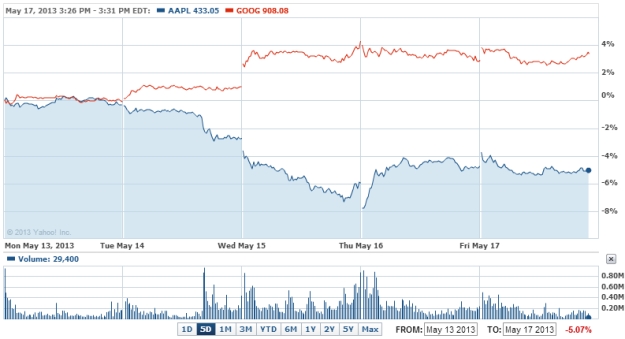 Follow Nathanael on Twitter (@ArnoldEtan_WSCS)