RadioShack Wants More of the Apple Pie
Is RadioShack (NYSE:RSH) on its way to becoming an authorized Mac computer vendor? RadioShack has recently expanded its line of Apple (NASDAQ:AAPL) product offerings to include Mac accessories. The newly available Mac accessories include the Magic Trackpad, the Magic Mouse, the Apple Wireless Keyboard, the standard wired keyboard, and MacBook Pro power adapters.
A RadioShack employee via Apple Insider reports that the Mac peripherals began arriving at retail locations approximately two to three weeks ago. Checks conducted by Apple Insider have confirmed that the pricing of the accessories at RadioShack's retail locations are the same as the Apple Store.
Before the recent Mac accessory expansion, RadioShack only sold the iPhone, the iPad, the iPod, and the accessories related to those products. Although RadioShack still does not sell any Mac computers, most of the peripherals for the Mac are now available in physical store locations as well as through RadioShack's online store.
Some observers have speculated that RadioShack's recent Apple product expansion could be the first step to becoming a full-fledged Mac computer distributor. According to MacRumors, RadioShack began offering the iPod in 2005 and later expanded to the iPhone, iPad, and related accessories in 2010.
Here's how Apple and RadioShack traded throughout the week.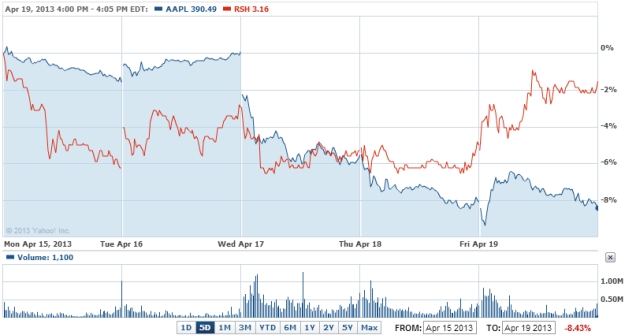 Don't Miss: Is Apple's Full-Size iPad Shrinking?