Report: Amazon Experimented With Its Own Wireless Network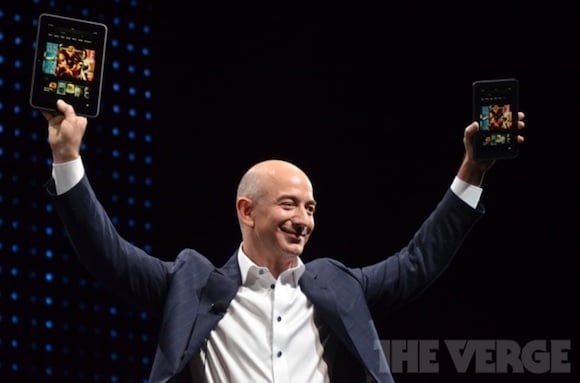 Amazon.com Inc. (NASDAQ:AMZN) recently tested its own wireless network that would allow its Kindle tablets to connect to the Internet, according to people familiar with the matter cited by Bloomberg.
The network was tested in Amazon's 126Lab research facility in Cupertino, California, and used spectrum from Globalstar Inc. (NASDAQ:GSAT) Neither Amazon nor Globalstar responded to Bloomberg's requests for a comment, but that research center is where Kindle devices are engineered and tested. The sources who spoke to Bloomberg said they were unsure if Amazon was still testing the network or if the project had been abandoned.
In recent years Amazon has rapidly grown into more than just an e-commerce giant. The company dipped its toes into tech with its Kindle tablets and e-readers, which have successfully competed against tablets from tech companies like Apple (NASDAQ:AAPL) and Samsung (SSNLF.PK). The Kindle tablets have built-in wireless connectivity, Amazon runs its own app store, and the company has been expanding its streaming video offering through the Amazon Prime Instant Video service — all good reasons for the company to be interested in developing its own wireless technology.
But Amazon hasn't left behind its core business as an online retailer. The company said earlier this week that it will continue building fulfillment centers, a project the company has already spent $13.9 billion on since 2010.
If Amazon spends a little more money on real estate close to cities, it could give 50 percent of the U.S. population access to same-day shipping, Bloomberg reports. Amazon only needs to build 12 more centers on top of those that have already been announced to reach that figure. Currently, only 15 percent of the population can get same-day shipping from Amazon.
Investors seem to be standing behind CEO Jeff Bezos's spend-money-to-make-money philosophy though it has led to the company reporting a loss last quarter. Amazon's stock price has more than doubled in the past three years.
Follow Jacqueline on Twitter @Jacqui_WSCS
Don't Miss: Why is Carl Icahn Meeting Apple's Cook?