Research Firm Sees a Slippery Slope Ahead for Apple Tablets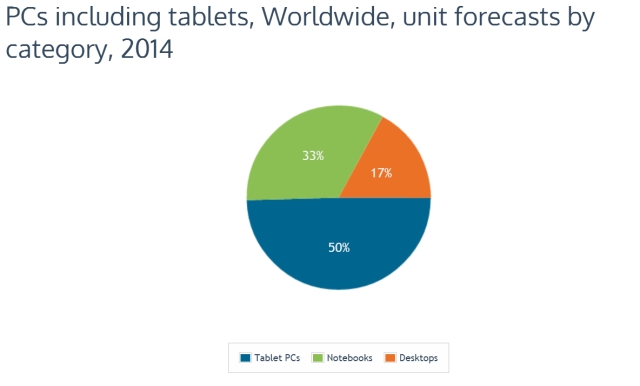 Will Apple's (NASDAQ:AAPL) long-running dominance of the tablet market eventually be eroded by small brand vendors? A recent report from market research firm Canalys predicted that tablets will make up 50 percent of the total PC market in 2014. It should be noted that Canalys, unlike most market research firms, counts tablet computers as part of the overall PC market. According to Canalys, Apple was the biggest PC vendor in the second quarter, with a 17.1 percent share of the worldwide market.
The growing tablet market would seem to bode well for Apple, since it held a 29.6 percent share of the worldwide tablet market in the third quarter of 2013, according to data from IDC. Second-ranked tablet maker Samsung (SSNLF.PK) held a 20.4 percent share. However, despite both companies' current dominance of the tablet market, Canalys also predicted that Apple and Samsung will eventually lose their respective positions as the No. 1 and No. 2 global tablet vendors due to increasing competition from "hundreds of small-to-micro brand vendors in established and high-growth markets and international players such as Acer, Asus, Lenovo, and HP (NYSE:HPQ)."
According to the IDC, Asus, Lenovo, and Acer held 7.4 percent, 4.8 percent, and 2.5 percent shares of the worldwide tablet market in the third quarter, respectively. The "Others" category, which includes small brand vendors, accounted for a 35.3 percent share of the total tablet market. Canalys believes that this disparate category of vendors poses the biggest threat to Apple and Samsung.
Canalys suggested that Apple's unyielding protection of its gross margins would lead to its eventual decline in the tablet market. "Apple's decline in PC market share is unavoidable when considering its business model. Samsung narrowly took the lead in EMEA [Europe, the Middle East and Africa] this quarter and Apple will lose its position to competitors in more markets in the future," stated Canalys Senior Analyst Tim Coulling.
On the other hand, Coulling also admitted that, "Apple is one of the few companies making money from the tablet boom. Premium products attract high value consumers; for Apple, remaining highly profitable and driving revenue from its entire ecosystem is of greater importance than market share statistics."
However, Canalys still concluded that Apple will eventually be overwhelmed by Android's rapidly increasing share of the tablet market. Canalys predicted that Android-based tablets will take a 65 percent share of the market in 2014 with 185 million units.
Meanwhile, Samsung will be increasingly challenged by local competitors that have entry-level products cheaper than Samsung's. "The rise of small-to-micro brand vendors has proved that there is a demand in for entry-level Android tablets in every country and in every region," noted analyst James Wang.
Here's how Apple closed out Friday's shortened trading session.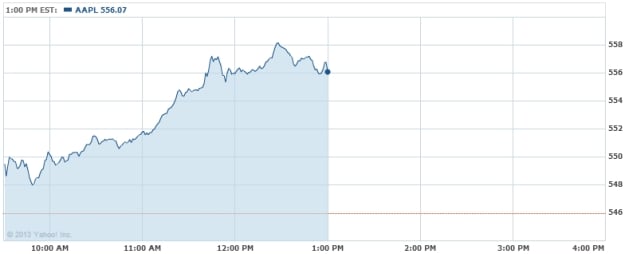 Follow Nathanael on Twitter (@ArnoldEtan_WSCS)
Don't Miss: Analyst: Apple Will Reap Black Friday Tablet Bonanza.