Revealed: Here Is What's Inside Apple's iPad Air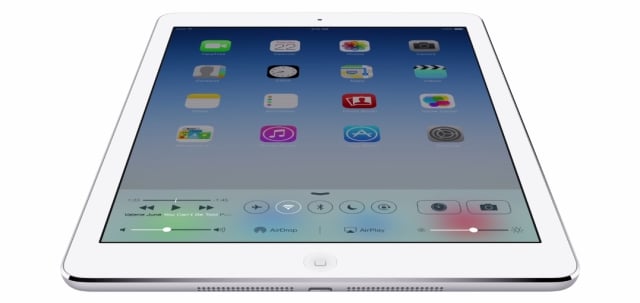 Apple Inc.'s (NASDAQ:AAPL) recently unveiled iPad Air goes on sale Friday. The device became available in United States timezones just after midnight Pacific Daylight Time after hitting shelves around the world and selling out in Hong Kong, according to Apple Insider.
The website reported that Apple is offering personal pickup and says the devices can be shipped and delivered by Monday for online orders, which suggests ample supply. The new iPad has gotten positive reviews for its lightweight and fast performance. Primate Lab's Geekbench test found that the iPad Air's A7 processor gives it the ability to run twice as fast as the iPad 4, with a much improved multicore performance.
If you're wondering what's inside the new fifth-generation iPad, Apple Insider has a report on that, too. Citing a writeup from repair experts iFixit, Apple Insider points out that the new iPad Air has several parts in common with the iPad mini and the iPhone 5S. IFixit found so many similarities between the iPad Air and the first-generation iPad mini that the site said it "seems like Apple took an iPad Mini and transmogrified it to a regular iPad's size."
The iPad Air has a two-cell 32.9 watt-hour battery as opposed to the iPad 4′s three-cell 43 watt-hour battery, but the iPad Air still has longer battery life than its predecessor due to iOS improvements and a new A7 processor. The new iPad's processor is a slightly different model than the A7 processor in the iPhone 5S. The iPad Air has a custom stereo-speaker arrangement similar to the iPad mini and a nano SIM like the iPhone 5, Apple Insider reports.
A big selling point of the iPad Air — and the reason for its name change — is its ultra-thin and light frame. Weighing just one pound, Apple's said the iPad Air is the lightest 9.7-inch tablet on the market. One way Apple achieved this, iFixit found, was by cutting down on the thickness of the device's Retina screen by 20 percent.
With the supply of the iPad mini 2 in continual question — the device won't be launched until later this month, and many analysts have reported they expected supply to be tight — Apple is hoping that the iPad Air can seduce tablet customers over the holidays.
Follow Jacqueline on Twitter @Jacqui_WSCS
Don't Miss: Half of All Vehicles May Have This Apple Feature by 2018.