Ron Johnson May Land Back in Apple's Waiting Arms and 4 Other Hot Stocks
Ron Johnson's unceremonious exit from J.C. Penney (NYSE:JCP) may land him back at his old job – the one he was so good at – SVP of Retail at Apple (NASDAQ:AAPL). An article speculates that a marriage of convenience may be in order, because Apple has so far not been able to find anyone to run the legendary Apple Stores, which were conceived and implemented by Johnson during his tenure of ten years at Apple. The post is vacant since October, and may be just what the doctor ordered for out-of-work Ron Johnson, fresh from his disastrous experiments at J.C. Penney.
Raymond James analyst Tavis McCourt conducts a quarterly survey of Apple's (NASDAQ:AAPL) customers and key takeaways from the latest one conducted in March: iPhone customers are credited with more loyalty compared to other platforms and stand ready to upgrade when required more frequently. Not surprisingly, a price cut by the company would definitely result in new customers for the phone and a larger screen would definitely trigger most customers to upgrade. Interestingly, only 14 percent would switch to Android, and a minority of 12 percent are not happy with the product but are sticking on because of the app ecosystem.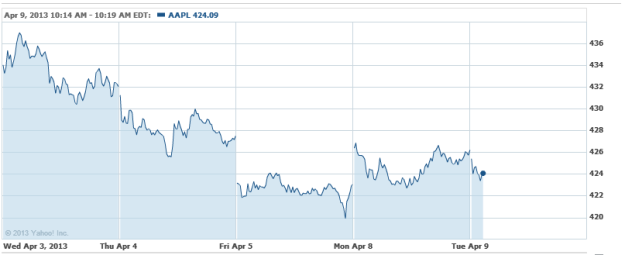 Persistent rumors that Berkshire Hathaway (NYSE:BRKA) subsidiary MidAmerican Energy could buy out bankrupt solar panel maker Suntech Power (NYSE:STP) have kept the latter's stock elevated through yesterday (+15.7 percent) and today, up 14.35 percent so far. Adding insult to injury, the NYSE notified Suntech that it did not meet the NYSE's price criteria for continued listing standard because, as of April 4, 2013, the average closing price of the Company's American Depositary Shares, or ADSs, was less than $1.00 per ADS over a consecutive 30-trading-day period. Suntech now has six months to regain compliance with this requirement.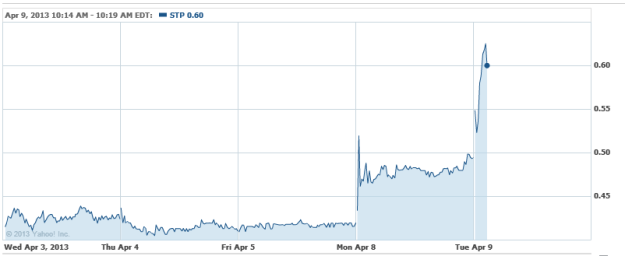 ZIOPHARM Oncology (NASDAQ:ZIOP) presented data at the American Association for Cancer Research 2013 Annual Meeting from its study in a breast cancer murine model demonstrating the anti-tumor effects and tolerability of Ad-RTS-mIL-12, a viral vector DNA-based therapeutic for the controlled, local expression of IL-12, an important protein for enhancing antitumor immunity. The study resulted in a dose-related decrease in tumor growth rate. Moreover, the therapeutic strategy appears to be well tolerated, as no change in clinical signs or body weight was observed in the treated animals when compared with vehicle alone. Jonathan Lewis, M.D., Ph.D., Chief Executive Officer of ZIOPHARM, commented, "These results support the hypothesis that localized delivery of IL-12 results in an increase in tumor infiltrating lymphocytes concomitant with a reduction in tumor growth.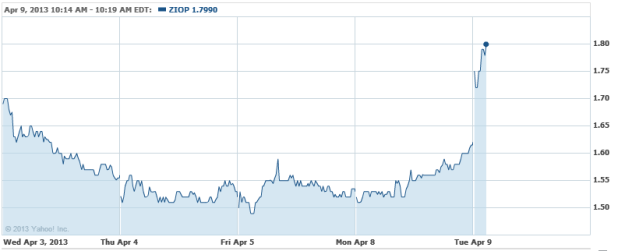 Kroger Co (NYSE:KR) joins a steadily longer list of retail chains that are creating electric charging infrastructure for cars on their shopping campuses. Kroger joins up with clean electric transportation and storage technologies leader, Ecotality Inc, to install over 200 level 2 (quick charge) charging stations, and 25 DC Fast Chargers. This multimillion dollar expansion will bring the total number of Blink chargers at the Kroger Family of Stores to almost 300. In January, drugstore chain Walgreens (NYSE:WAG) announced an expansion of its agreement with Car Charging Group, Inc., a nationwide provider of convenient electric vehicle charging services, to cover 11 Walgreens locations throughout Ohio in Akron, Canal Winchester, Columbus, Dayton, Franklin, North Canton, and Reynoldsburg. What's in it for retailers? "It's an opportunity to provide something additional to consumers who own electric vehicles," said Don Anair, research director of Union of Concerned Scientists' Clean Vehicles Program. "It could either get those people to visit their stores over competitors' or to spend more time in store as their vehicles are charging."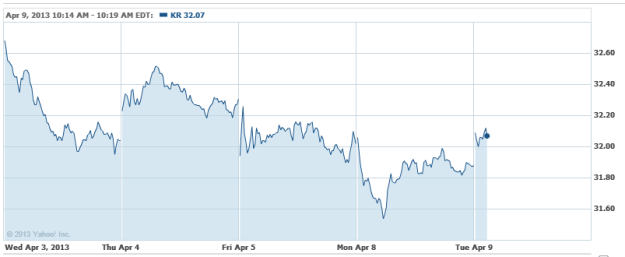 Don't Miss: Are Investors Running to the Hills with Jim Rogers?