Rumor: Did Apple Buy This 3D Tech Company?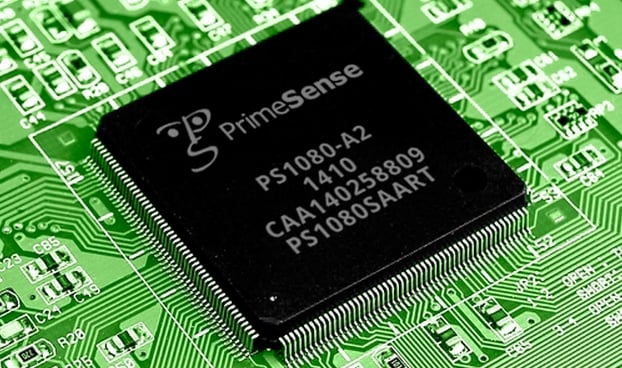 Apple (NASDAQ:AAPL) has purchased the Israel-based motion-sensing technology company PrimeSense, according to an unconfirmed report from the Calcalist financial newspaper via Reuters. Although Calcalist declined to cite any sources, the Israeli newspaper reported that Apple acquired PrimeSense for $345 million.
PrimeSense refused to confirm or deny the Apple acquisition rumors. "We are focused on building a prosperous company while bringing 3D [three-dimensional] sensing and natural interaction to the mass market in a variety of markets such as interactive living room and mobile devices," a PrimeSense spokesperson told Reuters. "We do not comment on what any of our partners, customers or potential customers are doing and we do not relate to rumors or recycled rumors."
PrimeSense developed a chip that enables 3D vision and gesture technology for digital devices. As stated on the company's website, the technology "translates these observations into a synchronized image stream (depth and color) — just like humans do. It then takes those synchronized images and translates them into information.
The company's technology is used in Microsoft's (NASDAQ:MSFT) Xbox 360 Kinect system and allows the device to distinguish users with its face-recognition capabilities, as well as interpret their gestures. According to PrimeSense's website, its technology is in "over 20 million households worldwide."
However, as noted by The Verge, Microsoft did not use PrimeSense's technology for the latest Kinect sensor that is paired with the new Xbox One. The lack of a new contract with Microsoft may have made the 3D tech company more amenable to a deal with Apple.
If the rumor is true, PrimeSense would be the second Israeli tech company that Apple has purchased. According to Reuters, the iPhone maker acquired flash storage chip manufacturer Anobit early last year. However, it's worth nothing that this is not the first time that Calcalist has reported a rumor about Apple purchasing PrimeSense. In July of this year, Calcalist reported that the Cupertino-based company bought PrimeSense for $280 million after a delegation of Apple executives visited the company.
The latest rumor about Apple's acquisition of PrimeSense is also likely to further boost rumors about a possible Apple television product. Some commentators believe that Apple's so-called "iTV" will feature Siri-based voice commands and motion-sensing control functions. Market research firm DisplaySearch recently reported that Apple is developing multiple sizes of a 4K resolution television that will be released in the second half of 2014.
Follow Nathanael on Twitter (@ArnoldEtan_WSCS)
Don't Miss: Why Is Google's HP Chromebook 11 Disappearing From Shelves?