Rumor: Large, Curved iPhones Coming in 2014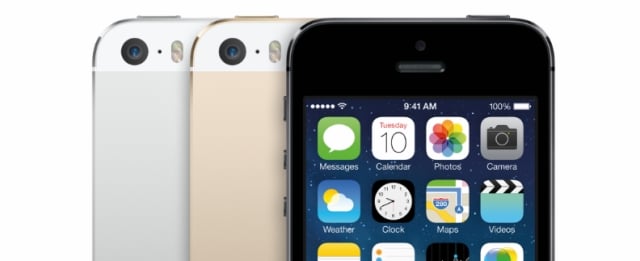 Will Apple's (NASDAQ:AAPL) iPhones get bigger and curvier in 2014? According to an unnamed insider source cited by Tim Culpan at Bloomberg, Apple's next iPhone iterations will feature larger screens with displays that curve down over the edge of the devices. At least one of the upcoming iPhone models may also include enhanced display sensors that will detect the pressure of a user's touch.
The "person familiar with the plans" predicted that two different iPhone models would be released in the second half of 2014. One model will have a 4.7-inch screen and the other will feature a phablet-sized 5.5-inch screen. However, the source also noted that the pressure-detecting sensor technology will not likely be ready in time to be included in the first iPhone model that is released.
These are not the first rumors to emerge about an upcoming large-screen iPhone. Last month, Korea's ETNews reported that the next iteration of the iPhone will get a display of at least 5 inches. Similarly, the Wall Street Journal reported in September that Apple was working on an iPhone with a screen size ranging from 4.8 inches to 6 inches.
As noted by Bloomberg, rival Samsung (SSNLF.PK) recently announced its own curved display smartphone, the Galaxy Round. However, Samsung's device curves upward at the edges, rather than downward. Samsung launched its first smartphone/tablet hybrid device in 2011 and its latest model, the Galaxy Note 3, features a 5.7-inch screen. The upcoming iPhones may be Apple's response to both of these devices.
Although she made no claims about the size and shape of future iPhone models, Morgan Stanley analyst Katy Huberty recently predicted that Apple will likely continue to release multiple iPhone models like it did this year. She also noted that future iPhone releases will occur at different times of the year, much like the separate iPad 3 and iPad 4 launches in 2012.
Although Apple currently uses Corning's (NYSE:GLW) Gorilla Glass for its iPhone and iPad touchscreens, it is possible that the company could eventually switch to sapphire. Last week, Apple revealed that it had entered a partnership with sapphire crystal manufacturer GT Advanced Technologies (GTAT). Sapphire is thinner, stronger, and more scratch-resistant than Gorilla Glass. However, it is unknown which of these materials would be better suited for curved displays or pressure-sensing technologies.
Here's how Apple has traded over the past week.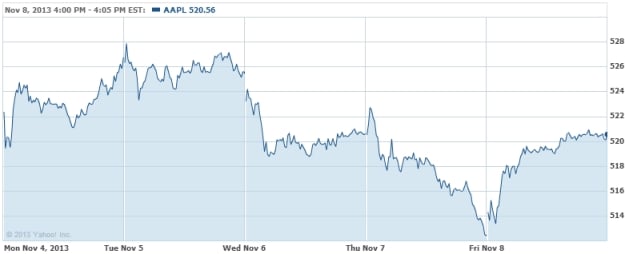 Follow Nathanael on Twitter (@ArnoldEtan_WSCS)
Don't Miss: Here Are the Details of Apple's Huge Sapphire Deal.