Samsung Admits Apple Could Win Big with This
After Apple (NASDAQ:AAPL) won over $1 billion in damages from Samsung (SSNLF.PK) in a patent infringement trial in August of last year, Samsung portrayed it as a loss for consumers, while Apple portrayed it as a confirmation of its patent infringement claims. However, barely six months later, Judge Lucy Koh vacated over $450 million of Apple's award, citing the jury's use of an "impermissible legal theory." Although this ruling was initially seen as a setback for Apple, it now appears that it might be an even worse scenario for Samsung.
Florian Mueller at Foss Patents points out that Samsung has admitted in a court filing that, "Apple can seek even more damages on these products in the new trial." The court filing is related to Samsung's move for a partial final judgment from the last trial.
As stated in Samsung's court filing, "The Court should enter partial final judgment under Rule 54 as to all 14 products as to which damages are now finally resolved and as to all of Samsung's counterclaims, and should order any new trial stayed pending the resolution of appeal from that partial final judgment."
In the court filing, Samsung also states that, "The special verdict form likewise required the jury to determine infringement and damages on a product-by-product basis." In other words, Samsung is arguing that if the new jury is to decide a new damages award, it must also reexamine the initial patent infringement claims for all 14 products again.
In order to bolster its argument for an entirely new trial, Samsung acknowledges that one possible outcome of a new trial would be an even higher damages award for Apple. However, it appears that Samsung's overall strategy is to seek a new trial that will undo many of the original judgments against it.
Apple closed down 2.08 percent at $442.66 on Thursday, at the end of a shortened trading week.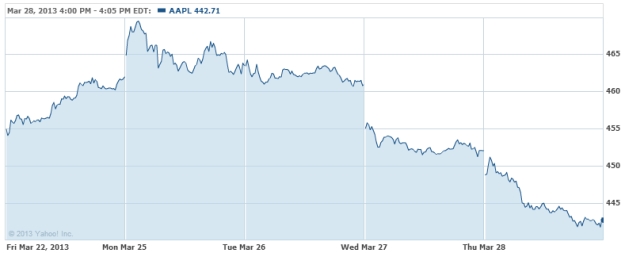 Don't Miss: Apple Beats Samsung at Social.