Samsung CEO: S4 Sales Fine, No Surrender in Apple Battle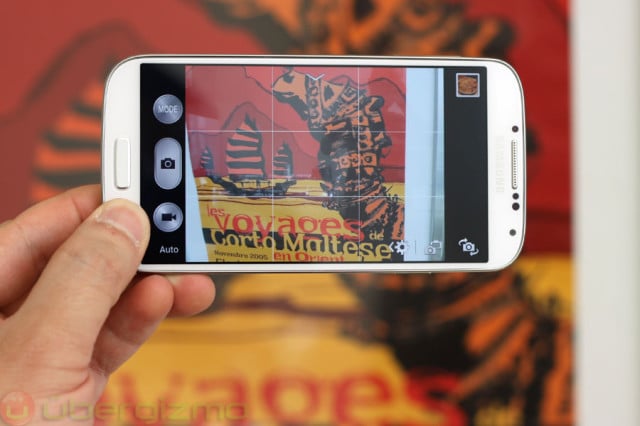 Samsung's (SSNLF.PK) CEO Shin Jong-kyun went into damage control mode earlier this week as he reassured investors that the company's flagship Galaxy S4 device is still selling strong after a recent JPMorgan report sparked a 6.2 percent drop in the Korean company's stock. Shin Jong-kyun also told investors that his company's legal battles with Apple (NASDAQ:AAPL) were likely to continue.
"I can say sales of the Galaxy S4 smartphone are fine. It's been selling well," said the CEO of the South Korean conglomerate via The Korea Times. "The report [by J.P. Morgan] was based on its own analysis. Probably, the bank may have corrected its previous bullish estimate about the S4 sales," he stated.
Shin Jong-kyun also briefly addressed the multiple legal battles that Samsung and Apple are currently fighting in courts around the world. "Patent disputes against Apple will be continue [sic]," noted the CEO. Samsung was recently handed a rare victory in its U.S. patent-infringement battle with Apple when the International Trade Commission banned the importation and sale of some older iPhone and iPad models.
However, Samsung has another upcoming court battle with Apple in November, when a jury will reevaluate a portion of a $1.05 billion damages award given to Apple in the original trial. Apple recently had its so-called "rubber-banding" patent confirmed by the United States Patent and Trademark Office, which may give the Cupertino-based company an important legal advantage in the upcoming trial.
Citing the slowing demand for the Galaxy S4, JPMorgan's report lowered its 2013 earnings estimate for Samsung by 9 percent. After the report was released, Samsung lost $12.4 billion in market capitalization, falling to $187.8 billion.
Samsung announced in May that it had sold 10 million Galaxy S4 units worldwide in the first month after the device was released. The Korea-based company has plans to sell approximately 100 million of the devices. However, JPMorgan estimates that the company will likely sell about 60 million. Here's how Apple has traded so far this week.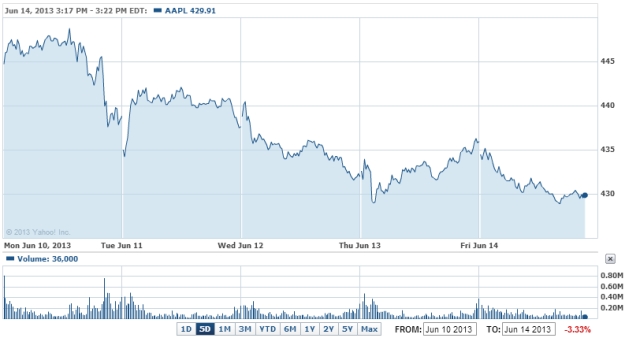 Follow Nathanael on Twitter (@ArnoldEtan_WSCS)
Don't Miss: Frenemies Forever: Apple Has New Work for Samsung.