Samsung's Big Day: The Galaxy Gear Is Here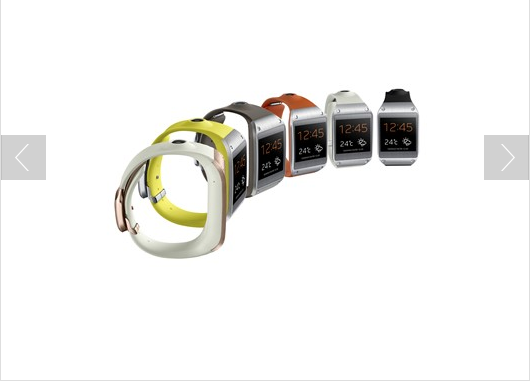 As of Wednesday at 1:30 p.m. ET, Samsung Electronics officially won the first smartwatch footrace, announcing its highly anticipated Galaxy Gear smartwatch at the IFA consumer electonics trade show in Berlin. September 4 has been highlighted as a big day for consumers' wrists ever since it was confirmed that Samsung would launch its smartwatch at this event, and now that the Korean tech company has kept its word about rolling out the first rumored smartwatch, high-profile competitors Apple (NASDAQ:AAPL) and Google (NASDAQ:GOOG) are likely gearing up to quickly follow suit.
USA Today reports that the new smartwatch will be include a 1.63-inch AMOLED screen, a camera that sits on the watch band, and 4 GB of storage space. The Galaxy Gear will be available in six colors and have a battery life of more than 25 hours and packaged with an S voice, or an assistant that functions closely to Apple's Siri.
In addition, notifications from Samsung's new Galaxy Note 3 — also launched at the event — will be fed to the Gear instantly, alerting users when they should pull out their phone to read an important email. But that phone isn't necessary for a phone call, because when users need to call home or pick up an important message, they will only need to raise their hand to their ear like they're holding a smartphone.
The smartwatch also has a number of unique features that the company still has yet to go over, including its impressive app portfolio. But users will get the opportunity to witness these details on their own come October when the device will officially be launched by Samsung.
USA Today reports that the Galaxy Gear will go for $299, and Samsung also expects the wearable tech's purchase to drive sales of the Galaxy S4 smartphone, the Galaxy Note 2 and 3 modles, and the Galaxy Note 10.1 tablet — all with which the smartwatch is compatible. But while it was a good day for Samsung and the future of wearable tech in general, it likely wasn't one that Apple and Google celebrated, as they too have been working to introduce their own smartwatches, and everyone wants to be first.
Apple, especially, has been making headlines this summer as sources eye the Cupertino, California-based company and wait for signs of smartwatch confirmation. Apple registered the "iWatch" as a trademark in Japan in June, and many other reports have documented how the company is experimenting with wristwatch-like devices.
Most recently, Apple has made a series of high-profile hires and acquisitions that are believed to be purposed for the development of the Apple iWatch team, and reports in August even claimed that the Taiwanese companies responsible for the watch's production have been confirmed.
Similarly, seeds rumoring Google's own smartwatch have also been planted, especially when the company quietly acquired smartwatch startup, Wimm Labs, in 2o12. Reports regarding Google's next big steps in the wearable tech market have yet to be confirmed, however, and the company has been careful to remain quiet about its efforts.
For now, we'll stick with what we know is true — and that's the Samsung smartwatch hitting stores in October. The tech giant was more than happy to confirm and dispel the new device's rumors on Wednesday, and it successfully took No. 1 in the wearable tech footrace.