Samsung's New Hybrid Tablet Takes Aim at Apple's iPad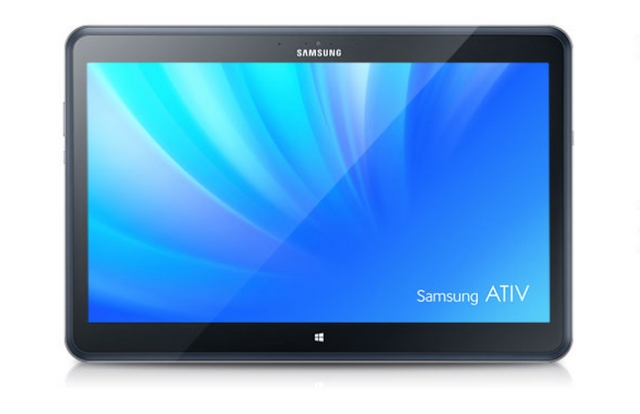 Does Samsung's (SSNLF.PK) new ATIV Q hybrid tablet pose a threat to Apple's (NASDAQ:AAPL) tablet market dominance? Ever since Apple unveiled its first iPad in 2010, the Cupertino-based company has consistently dominated the U.S. tablet market.
Although Samsung appears to be closing in on Apple in the U.S. OEM smartphone market with a 23 percent share compared to the iPhone's 39.2 percent share, it's another story when it comes to tablets. According to an anonymous Samsung source via the Korea Times, "Samsung's tablet share in the U.S. is hovering around 13 percent, well below Apple's 50 percent. Our technicians and management are now trying to come up with a different approach."
Now it appears that part of Samsung's new approach is to compete with Apple in the high-end tablet market. Samsung is taking aim at the iPad by releasing its own high-quality tablet that will be powered by both Microsoft's (NASDAQ:MSFT) Windows 8 and Google's (NASDAQ:GOOG) Android. Besides having a dual operating system, the device also features a multi-functional hardware design that lets it transform from a tablet to an ultramobile-type laptop.
Samsung's ATIV Q tablet seems designed to outshine Apple's iPad specifications. The ATIV Q has a 13.3-inch screen with a resolution of 3,200 x 1,800. The iPad 4's Retina display only has a 9.7-inch screen with a resolution of 2,048 x 1,536.
Some analysts believe that Samsung is lagging because of a "lack of competitive content" and "Americans' preference for Apple's iOS user interface." Although Samsung's tablet users have access to a lot of content through the Android operating system, the revenues go to Google.
Although Samsung has high hopes for its new ATIV Q tablet, it may be taking the wrong approach by using two operating systems and a complicated multi-functional design. Kium Securities analyst Lee Jay-yoon notes: "Consumers in the United States just use tablets as a plaything. They just purchase goods via online shopping malls and play games. Samsung should think about simplicity not complexity if it wants to grab the minds of U.S. consumers."
Apple shares closed up 0.70 percent, or $2.75, at $396.53 on Friday. Here's how Apple has traded over the past week.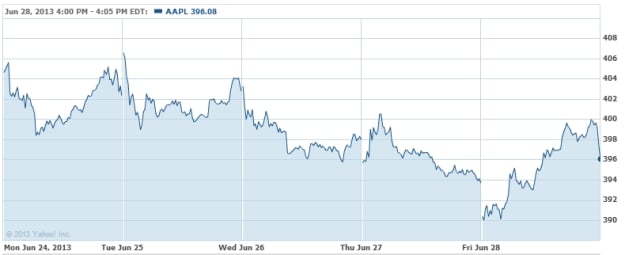 Follow Nathanael on Twitter (@ArnoldEtan_WSCS)
Don't Miss: Apple's MacBook Air Is a Heavyweight in This Market.