SAP Doesn't Want BlackBerry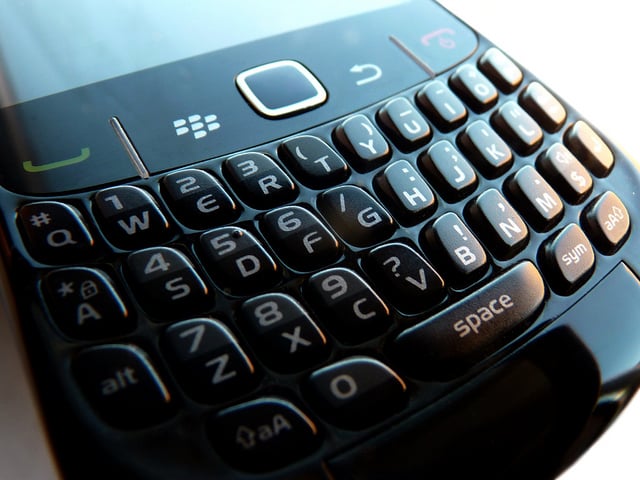 One potential bidder is already out of the race of purchasing BlackBerry (NASDAQ:BBRY). German business software manufacturer SAP (NYSE:SAP) has decided that purchasing BlackBerry "doesn't fit" with its strategy, CFO Werner Brandt told a German magazine, Reuters reports.
The news comes as a $4.7 billion buyout offer from Fairfax Financial Holdings is looking less certain as the days pass. Other potential deals are a purchase of the company as a whole or in parts by co-founders Mike Lazaridis and Doug Fregin, as well as offers from former Apple (NASDAQ:AAPL) CEO John Sculley, Cisco Systems (NASDAQ:CSCO), Google (NASDAQ:GOOG), Cerberus Capital Management, and Lenovo (LNVGY.PK).
While Fairfax is BlackBerry's largest shareholder, there is much doubt as to whether the company will be able to finance the $9-per-share bid, which has led many to speculate that BlackBerry will be forced to break into pieces in order to sell. Adding evidence that the deal may fall apart is the fact that BlackBerry shares have fallen below $9 since rumors began that the Fairfax deal was on shaky ground.
The interest from Fairfax, Cerberus, Sculley, and the company's co-founders could keep BlackBerry whole, while Cisco, Google, and Lenovo, among others, are only interested in pieces of the company.
While BlackBerry is generally credited with inventing the smartphone, its devices have not been able to compete with offerings from Apple and Samsung (SSNLF.PK). The company's smartphone sales have been drastically shrinking, and after the poor performance of its BlackBerry 10 models, the company opted to put itself up for sale.
While its handsets themselves aren't worth much at this point, BlackBerry does have some valuable assets that buyers are interested in. One of those assets is its patent portfolio, which has been valued between $1 billion and $3 billion. Some of the world's biggest tech companies license BlackBerry's patents, so the potential of owning them has driven interest in buying the company — or, at least, just its patents.
BlackBerry still has to find something to do with its failing hardware unit, even if the company manages to sell its other parts. The phones have performed so poorly that little hope is seen for the once iconic devices, and the unit would reportedly cost $800 million to shut down.
Follow Jacqueline on Twitter @Jacqui_WSCS
Don't Miss: Upcoming Apple and Facebook Earnings Reports Eclipse Fed Meeting.