Shares of Apple Stock Finally Breakout of Technical Resistance
Apple (NASDAQ:AAPL) is the king of the stock market. Steve Jobs has taken the thrown of corporate businesses, but Apple shareholders are now investing royalty. Shares of Apple broke above $400 today and the stock powered above $404.
A look at the chart below is simply one example of the perfect climb Apple (NASDAQ:AAPL) continues to make to new highs: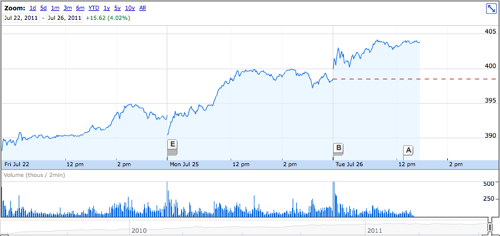 Don't Miss: Here's Why Apple Just Pulled Google Books from the App Store.
Although the media has been obsessed with the US and EU debt problems, multinational corporations such as Apple continue to strengthen as sovereigns spook investors. We expect unencumbered companies to continue winning as they take advantage of the strongest markets across the globe and diversify away from any single consumer market.
Other top tech companies following Apple's lead today include Google (NASDAQ:GOOG), Microsoft (NASDAQ:MSFT), Nokia (NYSE:NOK) and Hewlett-Packard (NYSE:HPQ).