Shaw Wu: You're All Wrong About Apple
Reports that Apple (NASDAQ:AAPL) had cut iPhone 5 component orders after seeing lower-than-expected demand for the device caused "great confusion" among investors, but they were not accurate, Sterne Agee analyst Shaw Wu said.
Wu wrote in a research note to clients on Tuesday that he wasn't buying the idea that cuts in components were a consequence of waning demand. Instead, reduced orders more likely hinted at improved yields. "We believe there is great confusion with press reports of order cuts and weak demand," Wu wrote. "From our understanding, the reason is two-fold: (1) much-improved yields meaning lower component builds and (2) supplier shifts. As far as we can tell, iPhone 5 demand remains robust."
Should you buy or sell Apple's stock ahead of earnings in a few days? Our 20-page proprietary analysis will help you save time and make money. Click here to get your SPECIAL REPORT now.
The company's share price slipped below the $500 mark on Tuesday morning and could not recapture $500 by the time the closing bell sounded. Apple closed down 3.15 percent today after falling 3.6 percent on Monday on reports that it was seeing low iPhone demand. Tuesday's fall to $483.38 was the stock's lowest point in 11 months. Here's a chart that shows just how deep the plunge over the last two days has been: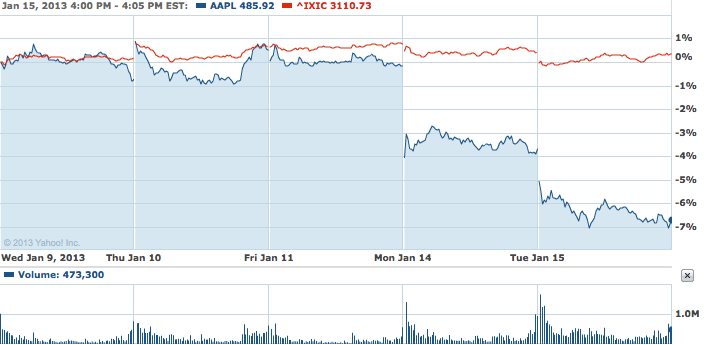 For the December-ending quarter, Apple was likely to report revenue as predicted and beat earnings per share forecasts because of the upside received from iPhone sales, though the company's guidance for the March quarter will be the "trickiest" he can remember, the analyst added.
Start 2013 better than ever by saving time and making money with your Limited Time Offer for our highly-acclaimed Stock Picker Newsletter. Click here for our fresh Feature Stock Pick now!
"We continue to believe iPhone shipments and gross margin will likely surprise to the upside," he wrote. "We remain comfortable with our forecast looking for 47.5 million units vs. consensus at 46-47 million. Our supply chain checks indicate much-improved yields and ramped iPhone 5 capacity as the quarter has progressed. For this reason, we are modeling gross margin of 38.7 percent vs. expectations of 38.3 percent and guidance of 36 percent."
Sterne Agee has a price target of $840 on Apple's stock, with a Buy recommendation.
Don't Miss: How Bad is Apple's Latest Fall?