Should Apple Investors Be Nervous About Stock Performance?
Apple Inc. (NASDAQ:AAPL) investors have been experiencing something rather unusual over the past two weeks, declines. Since hitting an all-time intra-day high of $644 on April 10, shares have declined to about $570, representing an 11 percent correction. Although some investors may be doubting the stock based upon the recent volatility, Apple's upcoming earnings release will be the true test.
After Tuesday's closing bell, Apple will report financial results for the fiscal second-quarter 2012. With a target of $1,000 per share by some analysts, expectations are high for Apple to turn in another great quarter. The average analyst estimate is for net income of $9.86 per share, a 54.1 percent increase from a year earlier. Over the past three months, estimates have increased from about $8 per share. Analysts are also expecting a 48 percent rise in revenue from a year earlier to $36.5 billion.
Don't Miss: Is Apple Slimming Down?
Investors will be keeping a close eye on iPhone sales. Most are expecting Apple to sell around 30 million iPhones in the quarter. However, Verizon (NYSE:VZ) recently announced that its iPhone activations decreased 25 percent in the first-quarter, when compared to the fourth-quarter of 2011. Although iPhone activations decreased from 4.2 million to 3.2 million, Apple also launched the iPhone 4S in China, which will help boost sales. Piper Jaffray recently released a report stating, "Factoring in estimates around Verizon as a percentage of total iPhone sales as well as channel fill, we believe the range on iPhone units in the March quarter will be between 30-33 million. We believe the Street is at 30.5 million and buy side expectations have drifted down today from 33 million to 32 million. We remain comfortable in our 33 million unit estimate based on faster International growth fueled by the January launch of iPhone 4S in China."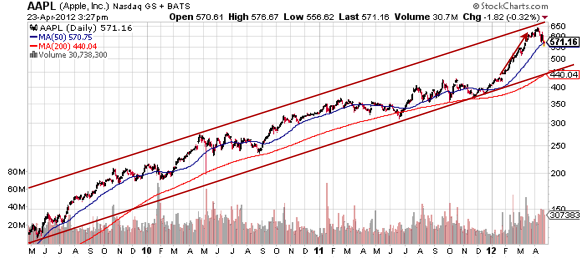 As the three-year chart above shows, Apple shares started its latest surge at the beginning of the year after reporting a blow-out quarter. In the December quarter, profit jumped more than twofold to $13.06 billion ($13.87 per share share), compared to $6 billion ($6.43 per share) a year earlier, exceeding expectations. Revenue also rose 73.3 percent to $46.33 billion. Shares immediately jumped 9 percent on the announcement and are still up 41 percent year-to-date. Apple is currently maintaining the three-year channel, but shares are still near the top. A disappointing earnings release could easily send shares closer towards the $500-$525 level.
While fiscal second-quarter results may send shares lower, it would provide a compelling buying opportunity for long-term Apple investors. Going forward, the tech giant has a slew of hot product releases that will serve as a catalyst for the stock. As long time Wall St. Cheat Sheet readers know, a 'Catalyst for a Stock's Movement' is the 'C' in our CHEAT SHEET investing framework.
While the new iPad sold 3 million units in its opening weekend, the majority of new iPad sales will not be included in Tuesday's earnings release. The third-generation model was launched with only a couple weeks left in the quarter. The iPad also continues to dominate other companies such as Google Inc. (NASDAQ:GOOG) and Amazon Inc. (NASDAQ:AMZN) in the tablet space. Furthermore, the iPhone 5 is expected to be unveiled in the fall. With the iPhone 4S being a marginally improved product, the iPhone 5 should be a bigger leap forward and provide more fuel to Apple shares.
Investor Insight: Are Taxi Drivers Buying Gold or Apple?