Should Apple Worry About Its Internet-TV Relevancy?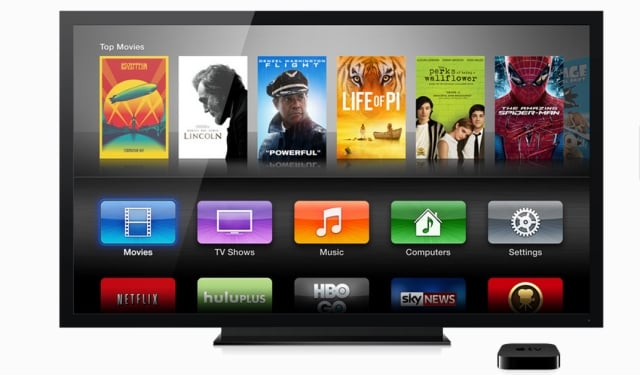 The announcement of Comcast's (NASDAQ:CMCSA) $45 billion acquisition of Time Warner Cable (NYSE:TWC) is under the microscope of both analysts and regulators who are looking at what the ramifications of such a deal would be for the cable television industry. But given that the providers of pay-television are looking increasingly to offer their content to customers via Internet services rather than traditional cable broadcasting, the deal with have an impact on many other companies with business in entertainment, from streaming video provider Netflix (NASDAQ:NFLX) to Apple (NASDAQ:AAPL) TV to satellite television provider DirecTV (NASDAQ:DTV).
In swallowing Time Warner Cable, the second-largest cable provider in the United States, Comcast will turn into an even larger TV behemoth, with a total of 33 million subscribers. And with its X1 set-top box — a device that provides a blend of Internet content, live television, apps, DVR, and on-demand programming through a single interface — the company has a well-established campaign to discourage subscribers from defecting to online video streaming services.
The question is where Comcast's new media might leaves other industry players, especially Apple, which was reportedly pursuing a deal of its own with Time Warner Cable.
Dominating the cable industry is the cord-cutting trend. The future will have little to do with linear, traditional video and much to do with media streamed from the Internet. Interest in cable television is dwindling and subscribers are cancelling. The past year was the worst on record for the pay-television industry in terms of customer retention; according to research firm MoffettNathanson, 113,000 subscribers of pay-TV packages offered by cable, satellite, and phone companies canceled their service.
For comparison, just 80,000 subscribers were lost during the 12-month period ended March 31. And, even that figure was concerning because it marked the first time a net, industrywide subscriber loss had been recorded for a four-quarter period since Leichtman Research Group began tracking the data a decade ago.
At the heart of the subscriber loss is the affordability and ease of Internet-based entertainment. Interest in Internet streaming services like Comcast-owned Hulu or Netflix, which give users access to a vast library of on-demand movies and television shows, has ballooned.
Netflix is a pioneer in Internet-based entertainment, but other companies have slowly been carving their niches in the market. Comcast has both its set-top box and a share of Hulu, while Apple has its own set-top box, Apple TV, Verizon (NYSE:VZ) has acquired Intel's (NASDAQ:INTC) OnCue, and Google (NASDAQ:GOOG) has Chromecast. But the problem is that Internet television providers have a high customer expectations to navigate: To be competitive, they must provide the content that subscribers want in a better way than cable or offer a competitive service at a price cheaper than cable.
Plus, these companies need to have extensive catalogs of video to match the likes of Netflix and Hulu in order to appease entertainment consumers who associate online media services with unending content options. The difficulties arise from the need to acquire content from companies like Viacom (NASDAQ:VIA), which owns networks like Comedy Central and MTV, CBS-owned (NYSE:CBS) Showtime, Time Warner's (NYSE:TWX) HBO, and Disney-owned (NYSE:DIS) ESPN and ABC. Of course, Apple does have some leverage, offering a large lineup of television shows, movies, and music through iTunes, but its relationships do not compare to those of Comcast.
Before Comcast's acquisition of Time Warner Cable was announced, rumors were circulating that Apple was in discussions with Time Warner to secure a programming agreement. Sources told Bloomberg that Apple was anxious to ink content deals ahead of a possible unveiling of a new set-top box in April.
In a Wednesday note to clients, which was obtained by Barron's, UBS analyst Steve Milunovic writes that Apple's deal-making attempts, if true, were part of a campaign to outmatch Comcast's X1. The rumors suggested Apple wants to blend streaming video with live TV, he noted. "Our sense is that Apple is attempting to develop a device that is capable of delivering both internet-based and linear multi- channel media as well as its own app store for other useful content," wrote Milunovic.
Even before the Comcast deal was announced, Milunovic believed the X1 user interface might make Apple TV irrelevant. UBS though it would behove "Apple to unveil a TV product sooner rather than later. TWC's involvement with Apple makes sense to us since [Time Warner Cable] appears behind in capabilities to develop a cloud-integrated user interface," he said, per Barron's. "Other press reports indicate that Comcast possibly is supporting Charter Communications' bid for [Time Warner Cable], suggesting a motivation to strike a licensing deal for Comcast's robust X1 interface platform."
Apple shares closed Thursday up 1.59 percent at $544.43.
More from Wall St. Cheat Sheet: