Shutdown Hurts Boeing, Twitter's IPO Plans Are Public: Market Recap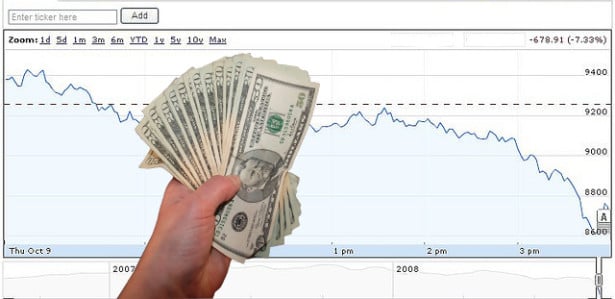 U.S. stocks rose during trading on Friday as investors became more optimistic that an agreement could be reached to end the government shutdown before defaulting on federal debt. The U.S. Treasury warned yesterday that the $16.7 trillion budget cap would be reached by October 17 regardless of measures taken to avoid it, and that defaulting on that debt could have disastrous consequences that may last for decades. The shutdown stopped the Labor Department from releasing its jobless claims report today.

Gold: -0.55% to $1,310.40 per ounce Oil: +0.29% to $103.61 per barrel U.S. 10-Year: +1.77 to 2.652%
8 States Where Student Debts Are Out of Control: Rising levels of student debt have raised alarm bells in the minds of economists and recent college graduates alike. With a bachelor's degree virtually indispensable in today's workplace — and a master's necessary in many fields, as well — many people, be they fresh out of high school or not, have found themselves needing to a seek a higher education in order to pay the bills.
5 European Countries That Were Saved from Bankruptcy: The impacts of the financial crisis in Europe have been severe and far-reaching. Billions of dollars have been loaned out to struggling countries; banks have turned belly up as they are unable to pay back debts; elections have been won and lost; and "austerity" and "bailout" have become household words.
The Irony of Obamacare: Republicans Thought of It First: Scholars rely almost exclusively on floor roll call voting patterns to assess partisan cooperation in Congress, according to findings in the paper Tracing the Flow of Policy Ideas in Legislatures: A Text Reuse Approach. By that standard, the Affordable Care was a highly partisan bill. Yet a different story emerges when the source of the reform's policy is analyzed.
Here's your cheat sheet to today's top stocks stories:
Twitter made its S-1 filing public on Thursday, drawing back the curtain on information about its finances and operations that would-be investors have been itching to get their hands on. Twitter has exercised extreme caution during the buildup to its IPO. In the eyes of many potential investors, the company falls into the same nebulous category of technology and Internet startups that Facebook (NASDAQ:FB) does, and as a result, carries some of the same dubious baggage.
Boeing Co. (NYSE:BA) warned that some of its jet deliveries could now see delays thanks to the government shutdown. According to the Wall Street Journal, Boeing manufactures most of its planes at its facilities in Washington state where the Federal Aviation Administration delegates the final authorization responsibility to Boeing staffers. Those planes won't face production delays, but the 787 Dreamliners that Boeing builds at its factory in South Carolina might.

J.C. Penney (NYSE:JCP) announced that it's adding a Disney (NYSE:DIS) Shop inside 565 J.C. Penney store locations around the country as the struggling retailer tries desperately to turn its fortunes around in time for the holiday shopping season. The Disney Shop will contain children's apparel and toys with characters from many of Disney's franchises, items that J.C. Penney said would be "affordable."
Microsoft (NASDAQ:MSFT) investors have been calling for Chief Executive Officer Steve Ballmer to step down for some time and for a visionary new leader who will focus on innovation, rather than salesmanship, to take his place. Through sources familiar with the matter, Reuters learned that three of Microsoft's top 20 investors want to get rid of more than just Ballmer, saying they want Chairman Bill Gates to leave Microsoft, the company he founded 38 years ago with Paul Allen.
Facebook's (NASDAQ:FB) popular Instagram app announced Thursday that it is preparing to start advertising in its users' Instagram feeds. Facebook explained in an official blog post that users will start to see an occasional ad in their feeds if they're living in the United States, but promised, "we'll start slow," and maintained that, "We'll focus on delivering a small number of beautiful, high-quality photos and videos from a handful of brands that are already great members of the Instagram community." Facebook is finally seeking to monetize its biggest acquisition.

Citigroup Inc. (NYSE:C) is now the latest company to face a significant fine on the charge of premature publication of private analyst information. According to the Wall Street Journal, the Commonwealth of Massachusetts fined Citigroup $30 million on Thursday after it concluded that one of its analysts, Kevin Chang, offered his clients research on Hon Hai Precision Industry, a major Apple (NASDAQ:AAPL) supplier, one day before the official report was publicly released.
Follow Jacqueline on Twitter @Jacqui_WSCS
Don't Miss: Citigroup's Premature Research Release Results in $30M Fine.