Siri to Users: Get to the Point!
Siri would like to help you out – so please just get to the point! Apple's (NASDAQ:AAPL) 2011 debut of Siri — the voice-activated personal assistant that can understand users' natural language queries — was viewed as a revolutionary step forward in human-computer interaction. However, Apple's latest update to Siri aims to make that interaction a little briefer.
Users that tax Siri's patience with their long-winded questions will now get a friendly reminder to get to the point. Brevity-challenged users will be presented with several different quotes that expound on the virtues of conciseness.
One of the quotes is from Thomas Jefferson, and it reads: "The most valuable of all talents is that of never using two words when one will do." Another quote from the fictional character of Hawkeye from the TV series MASH states: "If you bring that sentence in for a fitting, I can have it shortened by Wednesday."
Ironically, one of the quotes that is supposed to encourage conciseness is actually a little long. A quote from prose expert William Strunk reads: "A sentence should contain no unnecessary words, a paragraph no unnecessary sentences, for the same reason that a drawing should have no unnecessary lines and a machine no unnecessary parts." One could also add that a digital assistant should not contain any unnecessarily long quotes for the same reason.
Apple's recent introduction of these quotes into Siri's programming is part of an overall effort to make the digital assistant more personable. However, the effort to shorten Siri queries is also a general way to improve users' overall human-computer interaction experience with the personal digital assistant. Perhaps the fact that users can actually bore their virtual assistants might be seen as a odd step forward in the progression to an even more natural human-computer interaction experience.
Here's how Apple has traded so far this week.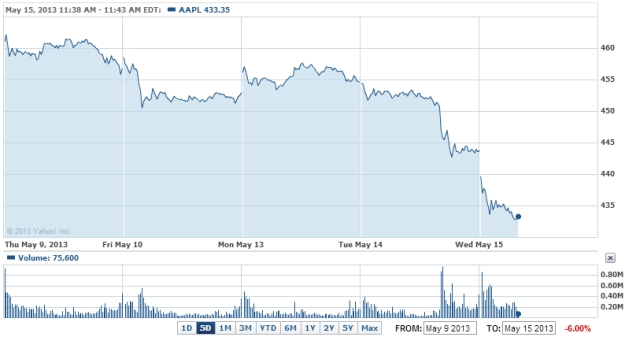 Don't Miss: 13F Filing Countdown: Big Investors Reveal Positions on Apple.