Sirius Will Launch Cheech & Chong Radio and 2 More Heavily Traded Stocks
 Sirius XM Radio (NASDAQ:SIRI): Current price $3.01
Beginning this weekend, the Grammy-Award-winning comedy duo Cheech & Chong will debut in their own limited-run channel, "Cheech & Chong Radio," says Sirius. The series will celebrate their hilarious career, featuring their classic comedy albums and more, taking over Raw Dog Comedy that weekend and will continue as a nightly special throughout the following week, leading up to "SiriusXM's Town Hall with Cheech and Chong," That program will be moderated by Artie Lange, comprising a sit-down for an intimate question-and-answer session with an audience of SiriusXM listeners, as part of the SiriusXM "Town Hall" series.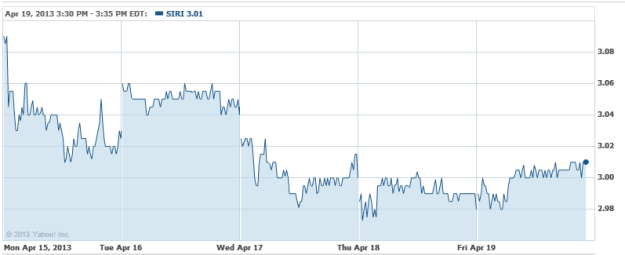 Ford Motor Co. (NYSE:F): Current price $12.94
The automaker said that it as raised its stake in the Chinese light commercial vehicles joint venture, Jiangling Motors Corp., from 30 to  to 31.5 percent. Ford purchased 13 million Hong Kong dollar-denominated B-shares of Jiangling Motors, which builds JMC light trucks, SUVs, and Ford Transit vans in China. Following the transaction, Ford's interest in the joint venture jumped to $705 million and the firm is also looking forward to swelling its stake further by 0.5 percent to 32, which would be at the maximum limit allowed by the securities regulator, within one year.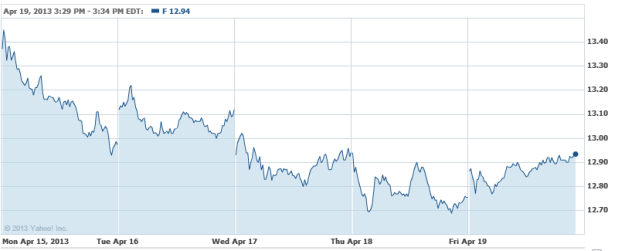 Advanced Micro Devices (NYSE:AMD): Current price $2.46
AMD announced that an executive with graphics-tech experience has come back to the firm, some three years after defecting to Apple (NASDAQ:AAPL). Raja Koduri will lead engineering endeavors in visual computing, and will report to another former Apple executive, Chief Technology Officer Mark Papermaster, AMD Chief Executive Officer Rory Read is reconfiguring the firm so as to develop new processor tech, as part of an effort to differentiate its products from those of its bigger competitor Intel Corp., and also to open up new markets outside of PCs.

Don't Miss: Is RadioShack Spending More Than It Can?