Sirius XM Hosts Tina Sinatra For Father's Day and 2 More Heavily Traded Stocks to Follow
Sirius XM Radio (NASDAQ:SIRI): Current price $3.34
Sirius XM announced Friday that Frank Sinatra's daughter, Tina Sinatra, will be host of a special roundtable conversation with the daughters of famous musical fathers on Father's Day, on Siriusly Sinatra, a channel dedicated to the music and spirit of Frank Sinatra. The special will air on Sunday, at 11:00 am and 8:00 pm Eastern Time via satellite on channel 71, and through the SiriusXM Internet Radio App on smartphones and other connected devices, along with online at siriusxm.com. Sinatra will welcome her special guests Natalie Cole, Monica Mancini, Daisy Torme and Deana Martin who will share stories and reminisce about each of their very famous fathers.

Walter Energy (NYSE:WLT): Current price $12.16
Shares were down over 17 percent in mid-afternoon trading until they were halted, after Forbes reported that the American producer of steelmaking coal has canceled a proposed $1.55-billion loan refinancing. The company has been requesting commitments from lenders by June 19 for the loan, which included a $350 million revolving line of credit, according to a knowledgeable source on June 5.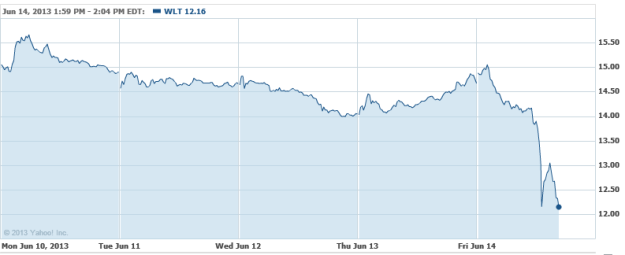 Apple (NASDAQ:AAPL): Current price $429.67
Apple has developed some new software specifications to assist other firms in creating game controllers that work with its iPads, iPhones, iPod Touches, and Macs, said documentation that was sent to developers, and viewed by The Wall Street Journal. The software behemoth said that the specifications are developed to ensure that all controllers "have consistent sets of control elements that both players and game designers can rely on," in the document, which emphasizes that videogames must be able to be controlled in other ways, saying that "Controllers must enhance gameplay — they must not be required."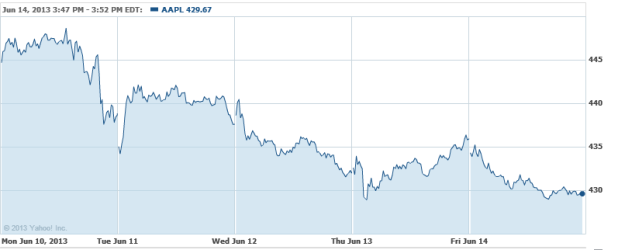 Don't Miss: Dish Claims SoftBank-Sprint Deal Threatens National Security (Again).