Some Apple Suppliers Lacked Stock Price Gains in 2013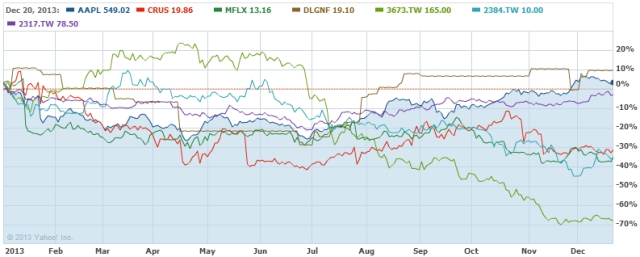 Being a supplier to the world's most valuable company doesn't necessarily translate into a stock price boost. As shown in supplier data recently compiled by Bloomberg, most of the suppliers that derive a majority of their income from Apple (NASDAQ:AAPL) saw their share prices decline over the past year.
According to Bloomberg, the six suppliers most dependent on Apple's orders are Cirrus Logic (NASDAQ:CRUS), Dialog Semiconductor Plc (DLGNF.PK), Hon Hai Precision Industry (also known as Foxconn), Multi-Fineline Electronix (NASDAQ:MFLX), TPK Holding Co., and Wintek Corp. While Apple's shares have climbed 3.5 percent this year through December 18, most of the iPhone maker's suppliers have seen their share prices drop over the same time period.
As noted by Bloomberg, Cirrus Logic, Multi-Fineline Electronix, TPK Holding Co., and Wintek Corp. have all sustained stock price drops of at least 30 percent during 2013. Hon Hai Precision Industry, which derives approximately 50 percent of its revenue from Apple, saw a relatively minor decline of 2.2 percent.
TPK Holding Co. had an especially rough year with over a 66 percent decline in its share price. According to Bloomberg, TPK derived 51 percent of its total sales from Apple in the third-quarter. Only the Germany-based Dialog Semiconductor Plc managed to top Apple's 3.5 percent gain with an increase of 11.4 percent.
"There's weaker confidence in Apple's long-term growth story," Yuanta Financial Holding Co. analyst Vincent Chen told Bloomberg. "Apple often gives pricing pressure to suppliers, but now those suppliers aren't getting the same benefit of strong sales growth that they had before."
Although some Apple suppliers perform badly despite having a steady relationship with the California-based company, other suppliers see share price declines due to Apple's ever-changing product needs. For example,  Jabil Circuit (NYSE:JBL), a well-known manufacturer of Apple's iPhone 5C, recently reported disappointing revenue guidance for its upcoming quarter due to sudden "demand changes" from an unnamed supplier. Some industry watchers believe Jabil's forecasted revenue decline was due to weaker demand for the iPhone 5C.
Follow Nathanael on Twitter (@ArnoldEtan_WSCS)
More from Wall St. Cheat Sheet: