Sorry iWatch Fans, Apple's New Hire Is Not a Wearable Tech Expert

Last week, industry watchers were excited to find out that Apple (NASDAQ:AAPL) had hired Ben Shaffer, a former Nike (NYSE:NKE) FuelBand designer. Many Apple fans were hoping that the hiring of a wearable tech expert was another sign that the Cupertino-based company was accelerating its development of the long-awaited iWatch.
Unfortunately for fans of iOS-powered wearable tech, it now appears that the initial rumors were incorrect, reports Fast Company. Although Ben Shaffer is indeed a former designer for Nike, his work was not related to the sportswear company's FuelBand project.
Instead of being a wearable tech designer, it turns out that Shaffer's work at Nike was related to the ultra-lightweight Flyknit shoe line. Fast Company notes that Nike's FuelBand project is run by its Digital Sport group, which is not even located in the same building where Schaffer worked on footwear.
Although iWatch fans may be disappointed that Apple didn't actually acquire a wearable tech expert, Schaffer's hiring raises other perplexing questions. Why did Apple hire a renowned footwear designer? Could Apple be developing its own line of shoes?
On the other hand, Apple may simply want to take advantage Schaffer's considerable talents as a general product designer. However, it is not known if Schaffer's position at Apple will involve work on the long-rumored wearable tech project.
Insider sources cited by Mark Gurman at 9to5Mac earlier this year suggested that Apple has already assembled a team of various medical sensor and fitness experts that are working on a smartwatch with health-monitoring capabilities. Other commentators have noted that the M7 motion coprocessor found in Apple's new iPhone 5S would be an ideal technology for a health-monitoring wearable tech product from Apple.
Here's how Apple traded on Friday.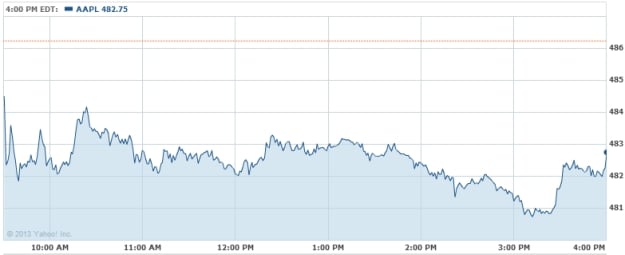 Follow Nathanael on Twitter (@ArnoldEtan_WSCS)
Don't Miss: Is Apple's Retina iPad Mini Launch on Hold?