Starbucks' Patriotic Promise, Microsoft Narrows Down CEO Search: Market Recap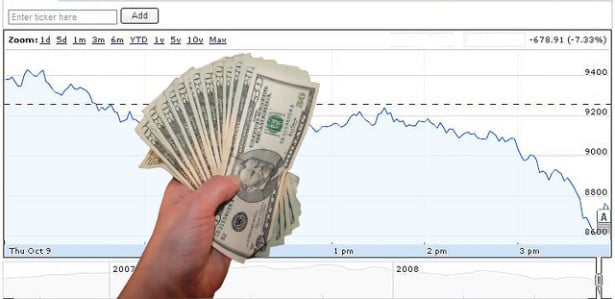 U.S. stocks rose during trading on Wednesday with the Dow hitting a record close. Two different papers from the Federal Reserve released yesterday said that the economy is still too weak for the central bank to cut back on stimulus. The promise of continued stimulus caused the market to leap. Investors are waiting for a report on the GDP to be released by the Commerce Department tomorrow, and a report from the Labor Department on payrolls to be released on Friday.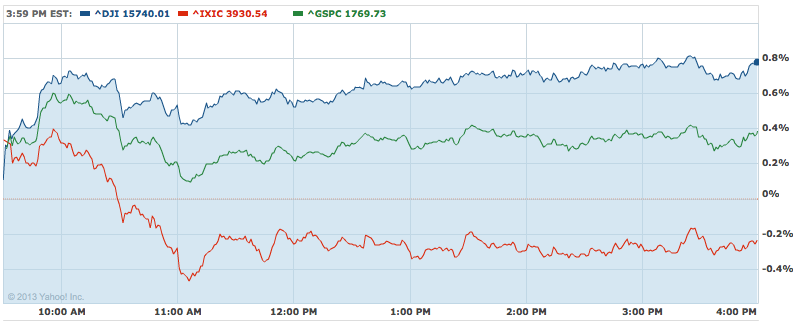 Gold: +0.75% to $1,317.90 per ounce Oil: +1.59% to $94.85 per barrel U.S. 10-Year: -0.83 to 2.64%
October Job Creation Will Be Low, But Does That Matter? "It's going to be difficult to interpret what happened in the labor market in October. I wouldn't put too much weight on the employment report one way or another," PNC Financial analyst Gus Faucher told Reuters this week. According to a survey of economists conducted by the publication, non-farm payrolls are expected to have added only 125,000 jobs last month — a marked drop from September's 148,000 net additions.

Crisis Era Policy: Has the Fed Been Successful? In two papers, two Federal Reserve Economists and Directors, William English and David Wilcox, teamed up with other economists to discuss monetary policy and central banking. The papers will be presented at the International Monetary Fund's (or, IMF) annual research conference, to be held November 7-8. The theme this year is "Crises Yesterday and Today." It is intended to present research and stimulate discussions among policymakers and researchers.
Can Former Budget Director Burwell Find the Elusive Budget? Earlier this year, Sylvia Mathews Burwell was elected as head of the Office of Management and Budget (OMB). Unfortunately, she may not have been prepared for the level of political strife in Washington these days, despite the friendly relationship she has managed to cultivate with members on both sides of the aisle.
Here's your cheat sheet to today's top stocks stories:
Microsoft's (NASDAQ:MSFT) next chief executive will have a weighty task: To guide Microsoft's efforts to fend off competition from rivals like Apple (NASDAQ:AAPL) and Google (NASDAQ:GOOG), companies better positioned to profit from the technological turn to mobile computing. Through sources familiar with the search, Reuters learned that the number of external contenders has been narrowed to five — including current Ford (NYSE:F) CEO Alan Mulally and Nokia (NYSE:NOK) Chief Executive Stephen Elop — and the list of internal contenders has been narrowed to three, including former Skype CEO Tony Bates, who now leads Microsoft's business development, and Satya Nadella, head of the company's cloud and enterprise unit.

Starbucks Corp. (NASDAQ:SBUX) has issued a new patriotic promise. According to Reuters, Starbucks said Wednesday that it will commit to hiring at least 10,000 veterans and spouses of active military members in five years. Starbucks CEO Howard Schultz said to the news service that these individuals have unique experiences and skill sets, and that is why he is promising to offer them part-time jobs as baristas. It's also why he is willing to give them the opportunity to employ their skills by trying out management, leadership, and administrative positions.
Chesapeake Energy Corporation (NYSE:CHK), an oil and natural gas company, released improved earnings for the third quarter Wednesday. According to Chesapeake's press release, the adjusted net income per fully diluted share is at $0.43 cents, significantly up from 2012′s third quarter, which was at $0.10 cents per fully diluted share. Chesapeake's adjusted earnings before interest, tax, depreciation, and amortization rang in at $1.325 billion, a 29 percent increase year-over-year.
Tesla Motors (NASDAQ:TSLA), the electric car manufacturer, isn't looking so charged up recently, with higher-than-expected numbers in its third quarter earnings report — but losses are still significant. Tesla reported third quarter adjusted earnings per share of $0.12 cents per share, 2 cents more than the 10 cents per share analysts expected. But this still constitutes a loss of 32 cents per share for Tesla — at least based on GAAP rules.
Time Warner (NYSE:TWX) has its cable channels TNT, CNN, and HBO, and the high programing fees and advertising they drew to thank for the 44 percent increase in Time Warner's third-quarter net income that blew past analysts expectations. "We had another strong quarter and remain on track for another very successful year, thanks to our commitment to great storytelling across [the company]," acknowledged Time Warner Chair and Chief Executive Officer Jeff Bewkes in the earnings report released Wednesday morning before the bell.
Follow Jacqueline on Twitter @Jacqui_WSCS
Don't Miss: 5 Fitness Programs #Trending in 2013.