Stephen Elop Leading Race for Next Microsoft CEO and 2 More Heavily Traded Stocks to Follow
Microsoft Corp. (NASDAQ:MSFT): Current price $33.02
Trying to guess who will replace Steve Ballmer at Microsoft is proving to be a grand entertainment for all. A British gambling website's favorite as the company's next chief executive is Stephen Elop, the Nokia Oyj chief who has presided over a 62-percent fall in the firm's market value.
Elop is a former Microsoft executive and currently has 5-to-1 odds to be picked as Ballmer's replacement, says the United Kingdom-based gambling operator Ladbrokes Plc. The front runner was the president of Microsoft's business unit, where he was in charge of Microsoft Office, prior taking the top job at Nokia. He leads a pool that includes the internal candidates Kevin Turner and Julie Larson-Green, and outsiders such as the Apple Inc. Chief Executive Tim Cook, who is a 100-to-1 dark horse.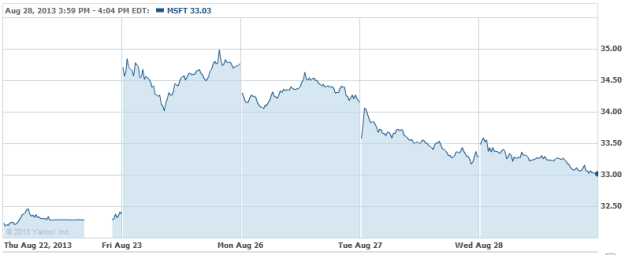 Facebook Inc. (NASDAQ:FB): Current price $40.55
The research firm eMarketer says that Facebook's continued concentration on mobile monetization is resulting in sizable gains in its mobile ad market share. In a report on Wednesday, the firm estimated that Facebook's share of mobile Internet ad revenues will hit 15.8 percent in 2013, up from 5.4 percent in 2012, which was the year the company debuted its first paid mobile ad.
It is anticipated that the overall mobile ad market globally will to jump by 89 percent to $16.65 billion this year, according to eMarketer estimates. Facebook shares are up about 2.3 percent in late Wednesday afternoon trading in very heavy volume.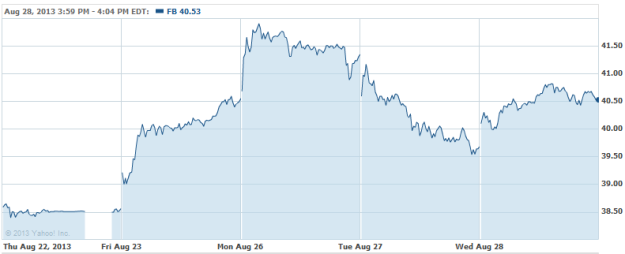 Sirius XM Radio Inc. (NASDAQ:SIRI): Current price $3.58
Attorney Mark Lebovitch for Sirius shareholders said that the billionaire John Malone unfairly employed an investment agreement to get control of Sirius XM Radio Inc. without paying a takeover premium or letting investors vote on the deal.
Malone's Liberty Media Corp. designed a $530-million investment in Sirius in 2009. It was in a manner that allowed for the takeover without paying adequately for that right, Lebovitch told Delaware Chancery Court Judge Leo Strine Wednesday, remarking that, "Malone wanted to enjoy all the economic benefits of being a controlling shareholder without having any of the responsibilities." Strine said that he will decide later on whether the investors' claims should go forward.