Steve Wozniak to Apple: Make a 256GB iPad Air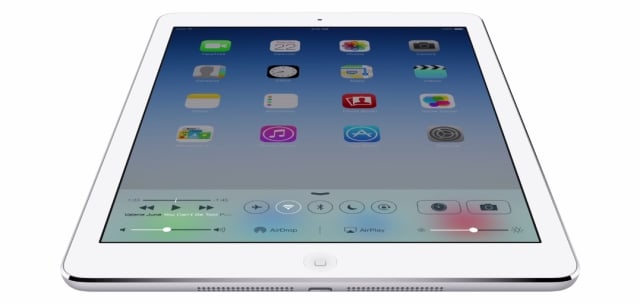 Apple's (NASDAQ:AAPL) latest flagship iPad failed to impress Steve Wozniak, one of the original co-founders of Apple. "Woz," as he is affectionately known by Apple fans, recently offered his frank assessment of Apple's iPad Air at the Apps World tech conference in London, reports Macworld.
"Yes it's thinner, but I wanted storage. I don't have broadband at home, and you can't get great broadband connection in hotels, so I carry all my personal media in the iPad. So I was hoping Apple has a 256GB iPad," said Wozniak. "I was hoping for more storage so I could put every episode of Big Bang Theory on my iPad. So I emailed my wife and said, 'Nope, I don't want one of those.'"
It should be noted that Wozniak's need for more memory is largely due to his unfortunate lack of broadband. "I can't order a movie from iTunes and watch it straight away," said Wozniak via TechRadar. "I could wait for it but I get bored by then. It's because of my lousy phone company, but that is life."
Apple's iPad Air is currently only available in 16GB, 32GB, 64GB, and 128GB capacities. Rather than expanding the memory capacity, Apple's latest iPad refresh focused on the inclusion of a 64-bit A7 processor and a thinner and lighter design.
However, Wozniak noted that he doesn't usually adopt the latest Apple product just because it's new. "Not every Apple product makes a big enough difference to me to get instantly, although many do," wrote Wozniak in an email to Huffington Post. "For example, I also did not get the iPad Retina when it was introduced."
Wozniak also stated that neither of Apple's new iPad models "hit my needs." He noted that the 7.9-inch iPad mini with Retina display is "just a hair too large" for him. Although he isn't jumping on the iPad Air bandwagon just yet, Wozniak told Huffington Post that he would eventually upgrade his iPad.
On the other hand, there is one product that Wozniak had to get right away. "I immediately ordered the new MacBook Pro, which is more central to my own computer life," he told Huffington Post. Apple's iPad Air will be available starting November 1, while the new MacBook Pro is already available from Apple and Apple Authorized Resellers.
Here's how Apple traded last week.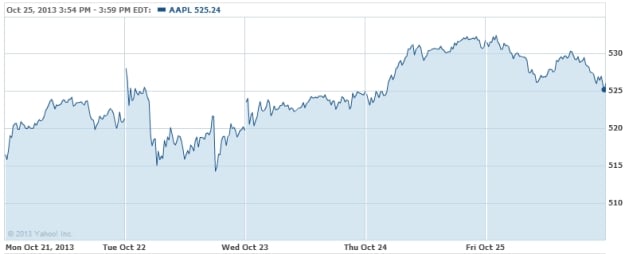 Follow Nathanael on Twitter (@ArnoldEtan_WSCS)
Don't Miss: Is Wall Street Underestimating Apple's Earnings?