Survey: Apple Consumers Prefer iPhone 5S More Than iPhone 5C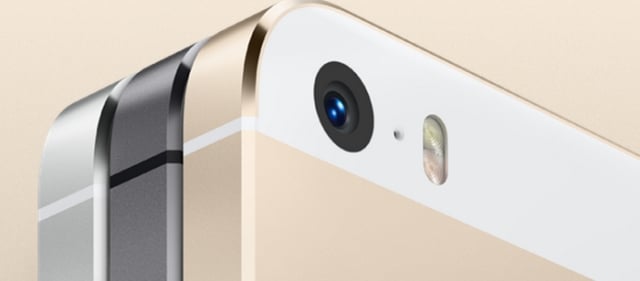 Apple's (NASDAQ:AAPL) flagship iPhone 5S appears to be outselling the lower-cost iPhone 5C by more than two to one according to a new survey from Consumer Intelligence Research Partners, reports All Things D. CIRP conducted the consumer survey at the end of September, approximately one week after the new iPhones were released.
According to CIRP's data, 64 percent of consumers reported buying the iPhone 5S, while 27 percent reported buying the iPhone 5C. The final 9 percent reported purchasing the iPhone 4S. This is good news for Apple since it seems to support CEO Tim Cook's prescient view that the high-end smartphone market has not reached saturation. However, the iPhone 5S does appear to be slightly less popular than the iPhone 5 was soon after its debut last year.
According to CIRP's data from last year, the iPhone 5 accounted for 68 percent of total iPhone sales, which is slightly more than the 64 percent share that the iPhone 5S took this year. Interestingly, the new iPhone 5C is only selling slightly better than the legacy iPhone 4S was around the same time last year.
CIRP's survey data also appears to be in line with data from mobile app analytics firm Localytics. Localytics tracked the ratio of iPhone 5S and iPhone 5C by activations. According to Localytics, the iPhone 5S was 2.9 times more popular than the iPhone 5C in the U.S. by September 26.
However, it should be noted that these ratios are likely to change as time goes on. Localytics marketing VP Bernd Leger noted that early adopters "are most likely the power users who want the highest-end phone experience." In other words, the iPhone 5C market share is likely to increase in the coming months.
Here's how Apple has traded over the past five trading sessions.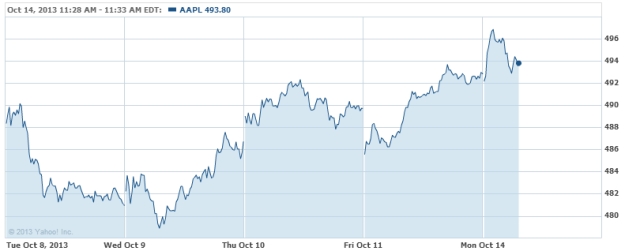 Follow Nathanael on Twitter (@ArnoldEtan_WSCS)
Don't Miss: Will Apple Users Lose This TV Streaming Service?