Survey: Demand for Apple's iPad Surges Ahead of Holiday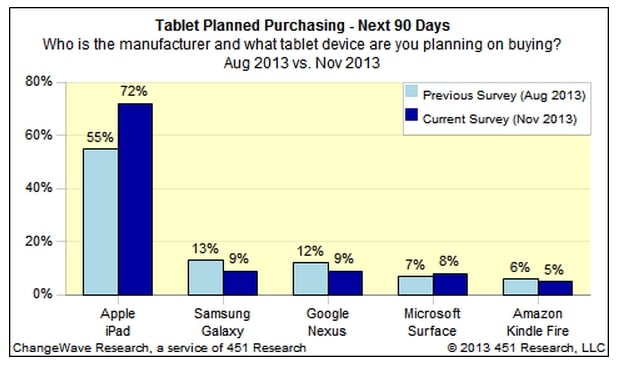 A recent consumer survey found that the vast majority of consumers intending to buy a tablet this holiday shopping season are planning on buying an Apple (NASDAQ:AAPL) iPad. According to a consumer survey conducted in November by 451 Research's Changewave service, 72 percent of planned tablet buyers said they will purchase an iPad.
Changewave's survey covers consumers that are looking to buy a tablet within the next 90 days. According to the research firm's survey, 13 percent of all respondents indicated that they intended to buy a tablet within this time period.  As noted by Changewave, the latest survey data showed a 17-point increase for Apple over the survey data from August when 55 percent of respondents indicated their interest in purchasing an iPad.
On the other hand, all of Apple's tablet competitors — except for Microsoft (NASDAQ:MSFT) — saw a decrease in consumer demand since the last survey. Not surprisingly, Changewave credited the recent launch of the iPad Air and iPad mini with Retina display as one the factors behind Apple's momentum. Samsung (SSNLF.PK) and Google (NASDAQ:GOOG) were tied for a distant second place behind Apple, followed by Microsoft in third place and Amazon (NASDAQ:AMZN) in fourth place.
According to Changewave, the number of respondents that said that they intended to purchase a Samsung Galaxy declined to 9 percent in November from 13 percent in August. Similarly, demand for Google's Nexus fell to 9 percent from 12 percent. Amazon's Kindle saw a slight decline from 6 percent to 5 percent, while Microsoft's Surface saw a slight increase from 7 percent to 8 percent.
Besides surveying consumers about their tablet brand preference, Changewave also surveyed planned iPad buyers about which iPad models they intended to purchase. According to Changewave's data, 55 percent of planned iPad buyers said they would purchase the iPad Air. Another 16 percent indicated that they intended to buy the iPad mini with Retina display. This means that a full 71 percent of planned iPad buyers are intending to purchase one of Apple's latest iPad models. Another 5 percent of respondents said that they would buy the original iPad mini, while 7 percent indicated that they would shop for the iPad 2. The remaining respondents either hadn't decided on an iPad model yet or were planning on buying one of Apple's other older generation models.
Changewave's survey data is similar to the results of a consumer electronics brand preference study recently released by market research firm Parks Associates. Based on data from a nationwide survey of 2,500 U.S. broadband households, Parks Associates found that Apple was the preferred electronics brand in seven key product categories, including tablets. Both studies seem to support Tim Cook's prediction that, "It's going to be an iPad Christmas."
Follow Nathanael on Twitter (@ArnoldEtan_WSCS)
Don't Miss: China Mobile's iPhone 5S Preorders Surpass 25,000 on First Day.