Survey Says: iPhone Owners Are Ready to Upgrade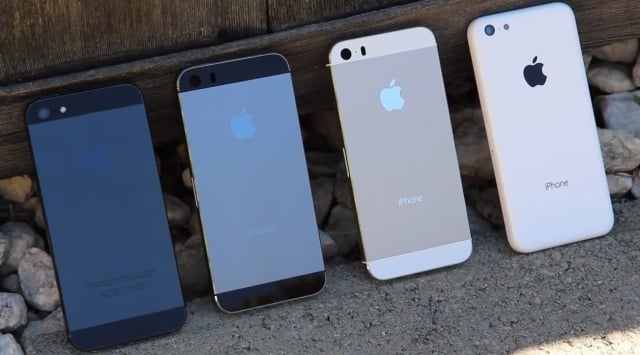 It appears that a significant portion of Apple's (NASDAQ:AAPL) new iPhone sales will come from current iPhone owners. According to a recent survey conducted by Ask.com, 46 percent of current iPhone owners said they will upgrade to a new version as soon as it is available.
Besides being a positive indication of consumer excitement about the new iPhone models, this statistic also suggests that Apple may remain mostly unaffected by the widely predicted high-end smartphone market slowdown. According to the most recent data from market research firm comScore, the 143.3 million smartphone owners in the U.S. represent a 60 percent mobile market penetration.
However, if nearly half of current iPhone owners still want to purchase a new device, it may not matter that the market is already saturated. According to its third quarter earnings report, Apple sold 31.2 million iPhones in the June quarter.
On the other hand, when asked which version they'd be more likely to purchase, over 60 percent of respondents said they would buy the lower-cost iPhone. Apple is widely expected to unveil two tiers of iPhone models at its upcoming September 10 media event.
The plastic iPhone – already known as the iPhone 5C – is the lower-cost version that many analysts believe will help to increase Apple's market share in emerging markets like China. The flagship iPhone – dubbed the iPhone 5S – is rumored to include a fingerprint scanner as well as the typical processor upgrade.
If the iPhone 5S does include a fingerprint scanner, it may help boost the sales of Apple's next flagship device. When asked, "Which feature do you most want to see on the new iPhone?" a "thumbprint unlock" was the second most requested feature. A longer-lasting battery was the most wanted feature.
Although the new iPhone 5C is expected to be available in a variety of colors, it doesn't appear to be an important feature for most potential iPhone buyers. Only 12 percent of users described "new colors" as one of their most wanted features.
Ask.com's findings were derived from search query data and user polls collected from more than 4,000 participants over a three-day period. Here's how Apple closed out the trading week.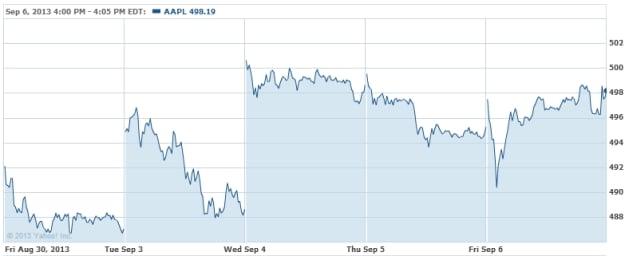 Follow Nathanael on Twitter (@ArnoldEtan_WSCS)
Don't Miss: Here Is the Apple TV Scoop.