Syria Worry Weighs on S&P 500, AT&T to Carry New Lumia: Market Recap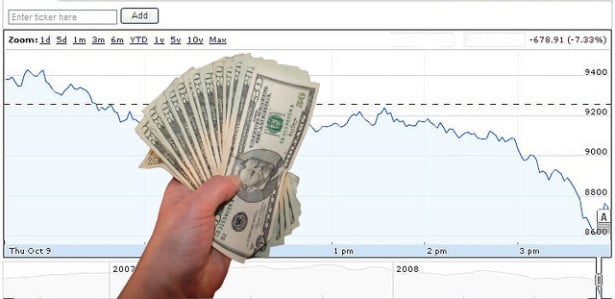 U.S. stocks fell Tuesday as investors were increasingly concerned about U.S. military intervention in Syria. Worries about the unrest in the Middle East dampened positive data showing that consumer confidence unexpectedly rose in August. The S&P 500 dropped the most since June during trading Tuesday.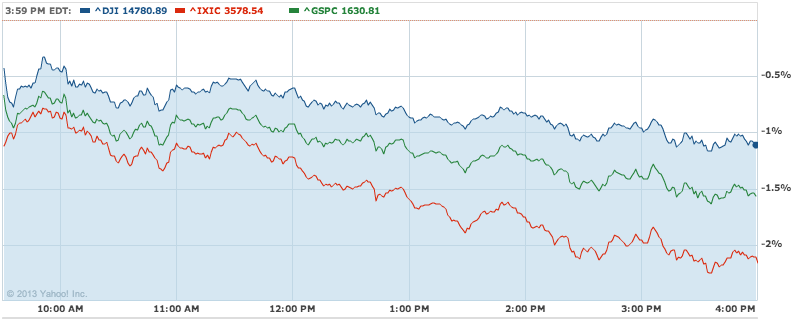 Gold: +1.62% to $1,415.60 per ounce; Oil: +0.04% to $105 per barrel; U.S. 10-Year: -2.99 to 2.721%.
August Retail Sales: A Tale of Two Consumers: While retail sales have increased for four consecutive months, consumer spending figures have not been strong. The still stubbornly high unemployment rate, stagnant wages, and higher payroll taxes have kept consumers cautious, keeping purchases to their immediate needs… (Read more.)
Oil Rises and Equities Fall As Tension Builds Over Syria: It seems like it's only a matter of time before international diplomacy breaks under the immense geopolitical tension building in the Middle East. U.S. Secretary of State John Kerry has accused the Syrian government of using chemical weapons against opposition forces, in the process committing "indiscriminate slaughter of civilians"… (Read more.)
Presidential Stock Market Score Cards: Reagan to Obama: One of the most important legacies a president leaves behind is his impact on the economy… (Read more.)
Here's your cheat sheet to Tuesday's top stocks stories.
Apple's (NASDAQ:AAPL) iPhone trade-in program that would allow iPhone users to trade in their old model to get a lower price for a new one has been rumored all summer, but now, just weeks before the supposed September 10 launch of the iPhone 5S and iPhone 5C, it looks as if the program is actually taking shape… (Read more.)
J.C. Penney (NYSE:JCP) and activist investor Bill Ackman, of Pershing Square Capital, have finally parted ways. After recent events, it comes as little surprise that the company's largest shareholder decided to sell his approximately 18 percent stake. Ackman's very public disagreement with J.C. Penny's chairman, Thomas Engibous, and other members of the board of directors over the leadership of current CEO Mike Ullman ended with Ackman's resignation from the board… (Read more.)
Tiffany & Co. (NYSE:TIF) reported better-than-expected earnings this morning despite sluggish growth in the U.S. Strong sales in China and lower prices for gold and diamonds helped the jeweler beat analyst forecasts and raise its full-year outlook. The company also said that its price increases didn't deter customers… (Read more.)
AT&T (NYSE:T) announced Tuesday that the first Lumia smartphone to feature metal design detail, the Nokia (NYSE:NOK) Lumia 925, will become available through the carrier on September 13 at $21 per month with AT&T Next or $99.99 with a two-year agreement. Preorders start Wednesday.
DSW Inc. (NYSE:DSW) reported earnings that beat analyst expectations Tuesday. The discount shoe retailer posted earnings per share of 97 cents, a 47 percent increase year over year that topped analyst forecasts of 80 cents. Revenue came in at $562.1 million, a growth of 9.7 percent that beat estimates of $559.7 million. CEO Mike MacDonald pointed out that the company was able to grow despite a "volatile sales environment."
Best Buy (NYSE:BBY) founder and biggest shareholder Richard Schulze is selling some of his stake in the company in a move to help diversify his assets and raise money. Schulze owns 21 percent of the company. He can sell his shares between October 1 and March. Shares in the electronics retailer have doubled in the past year under the leadership of CEO Hubert Joly… (Read more.)
Follow Jacqueline on Twitter @Jacqui_WSCS
Don't Miss: Don't Let Confusion Ruin Your Retirement Chances.