T-Mobile Hitches its Fortunes to the iPhone 5
T-Mobile officially entered the Apple (NASDAQ:AAPL) iPhone fold today as it began to offer iPhones through its retail stores with several unique payment plans.  According to Bloomberg, the Deutsche Telekom-owned company lost 2.1 million monthly contract customers last year. In an effort to stem its losses, T-Mobile has ditched the conventional long-term contract method of selling phones and is instead offering two alternative methods of payment for all versions of the iPhone 5.
T-Mobile is the fourth-largest wireless carrier in the U.S. but has lagged behind competitors like AT&T (NYSE:T), Sprint (NYSE:S), and Verizon (NYSE:VZ) by being a late adopter of the 4G LTE high-speed network reports Apple Insider. T-Mobile CEO John Legere, who has run the company since last September, is hoping that the iPhone sales coupled with the unique "uncarrier" payment plans will keep T-Mobile customers from dropping the carrier.
An upcoming potential merger between T-Mobile and MetroPCS  (NYSE:PCS) might also improve T-Mobile's fortunes by increasing its customer base to 42.3 million reports Bloomberg. The proposed merger is up for a shareholder vote on April 24.
According to internal documents obtained by TmoNews, T-Mobile has over 240,000 iPhone 5 devices ready to be sold in its retail stores.
Consumers have the option to either pay the full amount of the phone up front, or they can make a down payment followed by two years of monthly payments. The base 16GB version of the iPhone 5 is offered for a one-time payment of $579.99, or you can pay $99.99 down and $20 a month for 24 months reports The Verge…
Similarly, the 32GB iPhone 5 can be bought for $679.99 up front or $199.99 down with $20 monthly payments for 24 months. The 64GB iPhone 5 costs $779.00 or $299.99 down with a 2-year $20 monthly payment plan.
Via Bloomberg, BTIG Research analyst Walter Piecyk states that T-Mobile's new approach to selling the iPhone "could resonate with customers." As pointed out by The Verge, T-Mobile's upfront fee for a 16GB iPhone 5 is "$70 less than an unlocked iPhone 5 bought direct from Apple."
Apple shares are down $4.27, or 0.98 percent, at $430.06 in midday Friday trading.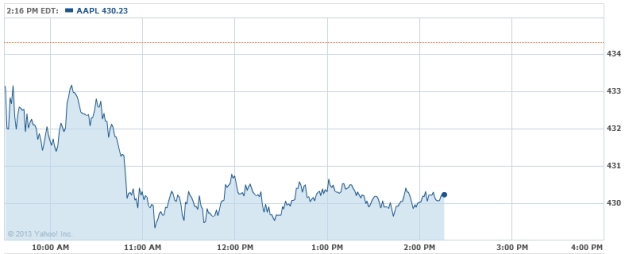 Don't Miss: Here's How Apple's Making China a Top Priority.