Target Earnings Show Rough Economy, Sony Sets PS4 Release Date: Market Recap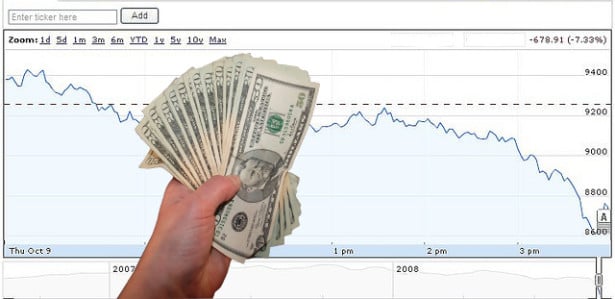 U.S. stocks fell Wednesday as the minutes from the Federal Reserve's July 30-31 meeting showed that the central bank favors cutting stimulus by the end of the year if the economy has shown enough improvement. No promises were made, but officials said they were "broadly comfortable" with Fed Chairman Ben Bernanke's plan to cut back on bond buying before the year ends.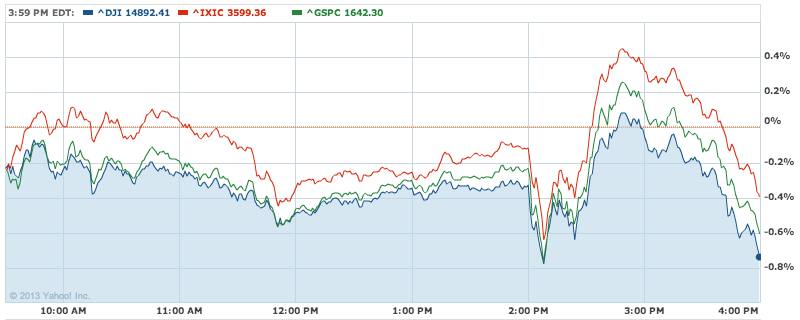 Gold: -0.53% to $1,365.30 per ounce; Oil: +0.04% to $105.00 per barrel; U.S. 10-Year: +1.46 to 2.855%.
Change of Heart: U.S. Trumping Emerging Markets as Investors Seek Stability: The political and economic conditions in developing and emerging economies are continuing to take their toll on companies exposed too heavily to these markets. Meanwhile, investors who opted to make plays into U.S. equities, especially during the earnings season, were rewarded… (Read more.)
On Road to Recovery, States Hitchhike on Moody's Upgrade: In 2008, at the height of the crisis, the financial condition of state-level governments in the United States began to rapidly deteriorate. Revenues — mostly in the form of tax receipts — evaporated as unemployment surged… (Read more.)
A Not-So-Hidden Cost of Sequestration: Childhood Education: One of the most significant — and often controversial — programs to come out of the war on poverty is the Head Start Program, which was launched in 1965. The program was initially designed to bring low-income children who had been unable to attend preschool or obtain education at home up to speed during the summer… (Read more.)
Mr. Market Trips Over Fed Minutes as Taper Timeline Takes Shape: The bad mojo that brewed in the markets this week largely dissipated following the release of the Federal Open Market Committee meeting minutes from July. All told, there were few surprises in the report. With economic conditions on the upswing, Fed officials have made no secret of the possibility that tapering could begin as early as this year… (Read more.)
Here's your cheat sheet to Wednesday's top stocks stories.
Target (NYSE:TGT) reported second-quarter profit Wednesday that met analyst expectations, but as a whole, the results clearly showed that customers are remaining cautious in light of higher taxes and unsteady employment. Target joined fellow discount retailers Wal-Mart (NYSE:WMT) and Macy's (NYSE:M) in reporting second-quarter results that indicated the rough economy is forcing shoppers to limit spending to necessities… (Read more.)
Apple's (NASDAQ:AAPL) tablet competitors may finally be gaining some ground in at least one important emerging market. According to the latest data from market research firm IDC via IDG News Service, Apple's share of the tablet market in China has slipped to 28 percent in the second quarter of this year… (Read more.)
Sony Corp. (NYSE:SNE) Chief Executive Officer Andrew House announced Tuesday in Germany that the highly anticipated PlayStation 4 will finally go on sale in North America on November 15 and Europe on November 29. The first new console in seven years will become available for gamers in 32 countries in time for the holiday season and conveniently just weeks before its main competitor's similar product: Microsoft's (NASDAQ:MSFT) Xbox One… (Read more.)
Netflix (NASDAQ:NFLX) on Tuesday announced a new licensing partnership with The Weinstein Co. in which Netflix will have the exclusive right to stream films from the company starting in 2016. Netflix is already home to The Weinstein Co.'s foreign films and documentaries, including the Academy Award Best Picture winner The Artist… (Read more.)
Goldman Sachs (NYSE:GS) could lose lose as much as $100 million due to erroneous trades, which disrupted trading activity on several options exchanges on Tuesday, sources told the Financial Times. A person familiar with incident explained to the publication that Goldman Sachs mistakenly issued orders into the stock-options market early Tuesday… (Read more.)
Follow Jacqueline on Twitter @Jacqui_WSCS