Tesla Opens China Showroom, T-Mobile Adds 1.1 Million Customers: Market Recap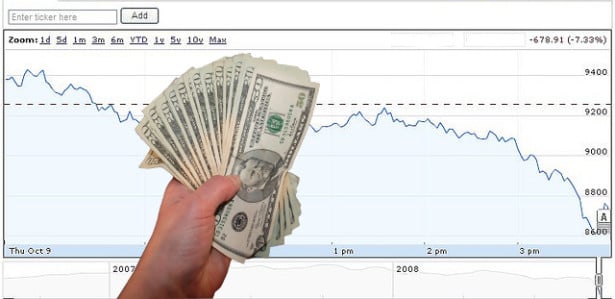 U.S. stocks declined during trading on Tuesday as investors are weighing economic data for signs as to when the Federal Reserve will begin cutting stimulus. The central bank said after its October meeting that it wants more evidence that the economy has recovered before beginning to curb its bond purchases. Data released today showed that the services industry unexpectedly grew in October despite the government shutdown, and investors are waiting on data about the GDP and payrolls to be released later this week.

Gold: -0.31% to $1,310.60 per ounce Oil: -1.31% to $93.38 per barrel U.S. 10-Year: +2.31 to 2.662
Can the Service Sector Lift the Market's Malaise? The Institute for Supply Management reported that its headline index for service-sector business activity increased to 55.4 in October from 54.4 in September. This marks 46 consecutive months of growth. ISM's non-manufacturing Report on Business gauges activity in the notoriously hard-to-measure services sector. The services sector accounts for the majority of gross domestic product and much of the business activity is more relevant to investors.
Will This Major Drop in Confidence Hurt the Economy? Americans' confidence in the economy plummeted in October. Gallup's Economic Confidence Index ticked down 16 points, the single largest monthly decline since the daily measurement began in 2008. In the first week of the government shutdown — which began on October 1, the first day of the new fiscal year — economic confidence registered the sharpest weekly decline since Lehman Brothers collapsed in September 2008.

Weekly Retail Sales Bode Well for October Economic Growth: In October, excluding household bills and major purchases like a car or home, Americans spent an average of $88 per day, a modest increase from September's $84. Yet while October's reading was marginally higher, the increase is far too small to indicate any significant improvement in economic conditions.

Here's your cheat sheet to today's top stocks stories:
T-Mobile US (NYSE:TMUS) is the little wireless carrier that could. The big news out of T-Mobile's third-quarter earnings report is that the wireless carrier added about 1.1 million new customers, with 678,000 of them under the T-Mobile or the newly acquired MetroPCS brand. The company sold 5.6 million smartphones in the quarter, helped in no small part by sales of the new iPhone 5S and 5C; iPhone sales accounted for approximately 15 percent of T-Mobile brand phone sales.
Apple Inc. (NASDAQ:AAPL) has announced a new initiative that will benefit workers in more ways than one. According to Bloomberg, Apple said Monday that it is opening a new plant in Mesa, Arizona where it will house machines used to make materials out of sapphire. This equipment will be supplied by GT Advanced Technologies Inc. (NASDAQ:GTAT) and GT Advanced confirmed in a statement that is has entered into a five-year agreement with Apple to provide the furnaces.

AOL Inc. (NYSE:AOL) produced a new documentary series recently – My Ink — in which athletes are interviewed about the meaning of their tattoos. Comparatively, if AOL had a tattoo based on its third quarter earnings report, it would be green and shaped like a dollar sign — though only time can tell us what AOL's results really mean.

Tesla Motors (NASDAQ:TSLA) is working to crack the world's largest auto market, and it began its efforts over the weekend when the carmaker opened its first showroom in China, registering pre-orders from customers at its new Beijing location. According to China Daily, Tesla is still awaiting government approval for the import and sale of its popular electric cars, but while CEO Elon Musk waits, Tesla is showcasing its illustrious four-door sports vehicles in China, and allowing customers to make pre-orders.
Pandora (NYSE:P) seems to remain unscathed by the introduction of Apple's iTunes Radio, and it in fact has even shown growth in listening hours since Apple's competing Internet radio service was released in conjunction with iOS 7. According to Pandora CFO Michael Herring, who spoke at a Morgan Stanley conference in San Francisco on Monday, Pandora's listening hours grew 9 percent in October versus September, showing that the online radio pioneer is withstanding the competition from Apple.

BlackBerry (NASDAQ:BBRY) shares closed up 2.69 percent as analysts digest the events from Monday. The company has been upgraded to Hold by Deutsche Bank and Societe Generale, and cut to Underperform by CIBC. It was revealed this week that BlackBerry will no longer be seeking a buyer, but will be infused with cash from institutional shareholders, and will be replacing CEO Thorsten Heins.
Follow Jacqueline on Twitter @Jacqui_WSCS
Don't Miss: Tesla's Earnings Report: 3 Elements to Watch.