Tesla Will Join the NASDAQ 100 and 2 More Heavily Traded Stocks to Follow
Tesla Motors Inc. (NASDAQ:TSLA): Current price $119.12
Next week, Nasdaq will add Tesla Motors to its index of the one hundred biggest nonfinancial stocks, which powers the QQQ fund. Oracle Corp. is transitioning out of the index, as it moves to the New York Stock Exchange. Tesla shares have been on a rip since the end of March, when Elon Musk's company said that sales of its Model S were surpassing targets, and that it anticipated a first quarter profit.

SanDisk Corp. (NASDAQ:SNDK): Current price $61.39
SanDisk has reported 2013 second quarter adjusted earnings at $1.14 per share, exceeding the Zacks Consensus Estimate of 88 cents per share, and the 2012 second quarter earnings of 15 cents per share. The growth can primarily be credited to impressive solid state drive sales, strength in retail businesses, and favorable supply and demand metrics. Shares are up around 3.40 percent in late afternoon trading.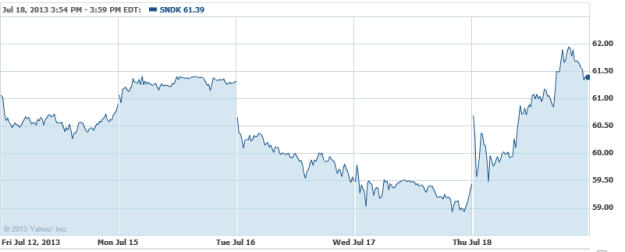 BlackBerry (NASDAQ:BBRY): Current price $9.12
Considering there was a 32 percent quarter-over-quarter rise in shipments of its flagship Lumia line, Nokia can now announce that it sells more Lumias than its competitor Blackberry sells phones. Approximately 7.4 million Lumias were shipped between the first of April and the end of June, versus 6.8 million Blackberry phones during the same period. In the first quarter, Blackberry's 6 million sales exceeded Lumia's by 400,000 devices.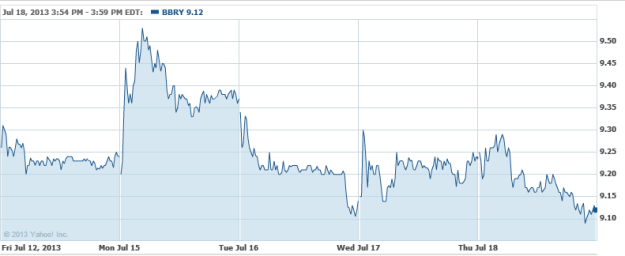 Don't Miss: Honda Sets Deadline for Mass Market Fuel-Cell Vehicle.