The iPad Floats Apple to the Top of a Stagnant Worldwide PC Market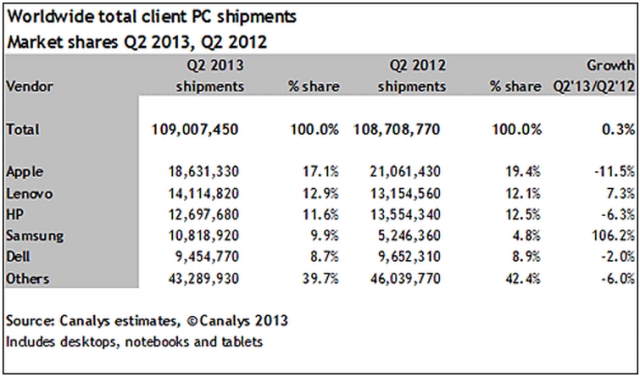 Apple (NASDAQ:AAPL) led the worldwide market in overall personal computer shipments in the second quarter of 2013 despite a lack of growth in the overall PC market according to the latest data from market research firm Canalys. Canalys includes desktops, notebooks, and tablets in its worldwide PC market calculations.
Despite a 42.9 percent increase in tablet shipments, the overall PC market experienced no growth in the second quarter due to declining desktop and notebook shipments. According to Canalys, desktop shipments fell by 7.4 percent and notebook shipments fell 13.9 percent.
Thanks to the growing consumer shift from desktops to mobile devices, Apple remained the top PC vendor in the second quarter of 2013. Although a slight year-over-year decrease in iPad shipments reduced Apple's share of the PC market from 19.4 percent in the second quarter of 2012 to 17.1 percent in the same quarter this year, the Cupertino-based company still led in overall PC shipments.
Apple's global PC market lead is largely due to its tablet devices since desktops and notebooks only accounted for approximately 20 percent of its total PC shipments. Canalys notes that Apple sold about 4.5 million more units than the second-ranked Lenovo.
Meanwhile, Samsung (SSNLF.PK) slipped to fourth place in the overall PC market behind third-place Hewlett-Packard (NYSE:HPQ). Canalys notes that HP's gains may be attributable to its recently launched Android-based Slate 7 tablet. Although Android's share of the PC market has increased from 6 percent in the year-ago quarter to 17 percent in the second quarter this year, Canalys notes that Android is particularly weak in the enterprise market due to its well-known security vulnerabilities.
Here's how Apple has traded so far this week.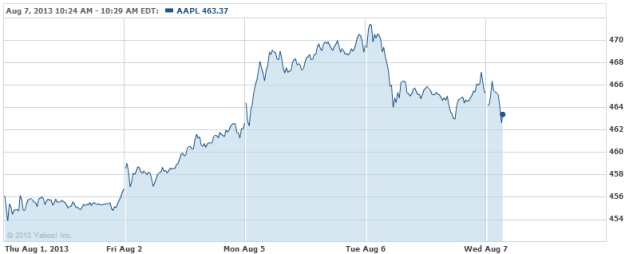 Follow Nathanael on Twitter (@ArnoldEtan_WSCS)
Don't Miss: Worried About the Safety of Your iPhone Charger? Exchange It at Apple.