The iPad Is the Web-Traffic Winner, Competitors Get Scraps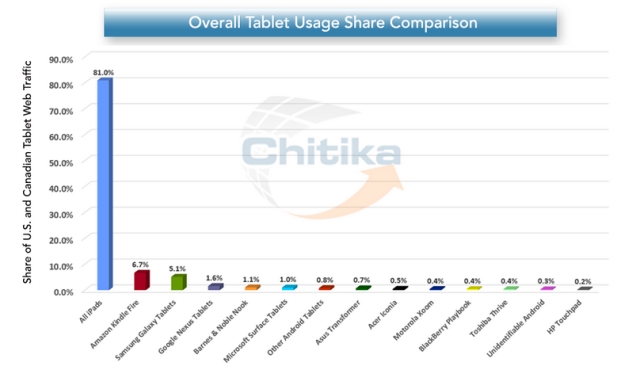 Recent Web-traffic data from online ad network company Chitika demonstrated that Apple's (NASDAQ:AAPL) iPads continue to dominate the North American market. According to Chitika's data, 81 percent of all Web traffic from tablets in the U.S. and Canada was generated by Apple's iPads between September 15 and September 21. Chitika derived its data from the tens of millions of ad impressions running through its online ad network.
Besides confirming Apple's tablet dominance in North America, Chitika's data also showed that Apple still leads in actual tablet usage despite an overall decline in unit shipments when compared to Android-based tablets. According to a report last month from ABI Research, worldwide sales of Android-based tables topped sales of Apple's iPads for the first time in the second quarter of 2013.
ABI Research's data was also in line with IDC data that showed Apple sold 14.6 million iPads in the second quarter while various Android-based competitors sold a total of 30.5 million tablets. However, as Tim Cook noted in Apple's third-quarter earnings conference call, "if there are lots of other tablets selling I don't know what they are being used for because that's a pretty, the basic function is web browser." Cook reiterated his point about actual tablet usage during last week's iPad-focused media event by citing Chitika's tablet-usage statistics.
Chitika's tablet-usage data also revealed how poorly Microsoft's (NASDAQ:MSFT) Surface tablets are performing. According to Chitika, Microsoft's beleaguered Surface devices only managed to secure a 1 percent share of the total North American Web traffic over the same time period.
However, it wasn't all bad news for Microsoft. Chitika also noted that the Surface actually doubled its market share since June 2013. Microsoft reported a $900 million writedown in the June quarter due to poor Surface sales.
The second-best performer after Apple's iPads were Amazon's (NASDAQ:AMZN) Kindle Fire tablets with 6.7 percent, while Samsung's (SSNLF.PK) Galaxy tablets took the No. 3 spot with 5.1 percent.
Although ABI Research noted that growth in the overall tablet market is being increasingly driven by lower-cost tablets, Apple's recent release of the iPad Air and iPad mini with Retina display may boost its market share in North America even further. The nearly year-long gap between iPad refreshes may even benefit Apple's iPad sales. As noted by Chitika, "This delay may make upgrading to the latest [iPad] model a more attractive option for consumers."
Here's how Apple traded last week.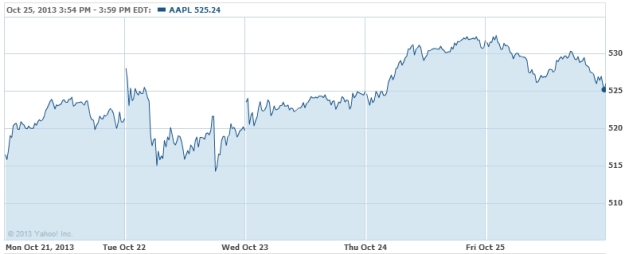 Follow Nathanael on Twitter (@ArnoldEtan_WSCS)
Don't Miss: Steve Wozniak to Apple: Make a 256GB iPad Air.