The iPad Kingdom Has A New Enemy
Apple's (NASDAQ:AAPL) iPad continued to lead the pack in worldwide tablet shipments in the fourth quarter of 2012, but its overall share dipped as devices from key rival Samsung (SSNLF.PK) surged in popularity. For the quarter ended December, iPad shipments grew 48.1 percent year-over year to total 22.9 million units, according to IDC. Tablet shipments for Samsung, though, zoomed up a massive 263 percent to reach 7.9 million units.
Overall, the tablet market saw a 75.3 percent growth to 51.5 million shipments from 29.9 million a year ago. According to IDC, new product launches led to a surge in consumer interest. "The record-breaking quarter stands in stark contrast to the PC market, which saw shipments decline during the quarter for the first time in more than five years," the report said.
Apple's market share fell for the second consecutive quarter to come in at 43.6 percent, while Samsung's grew to 15.1 percent to take second place. The iPad maker was down from 51.7 percent in the same quarter last year, while the Korean company rose from 7.3 percent.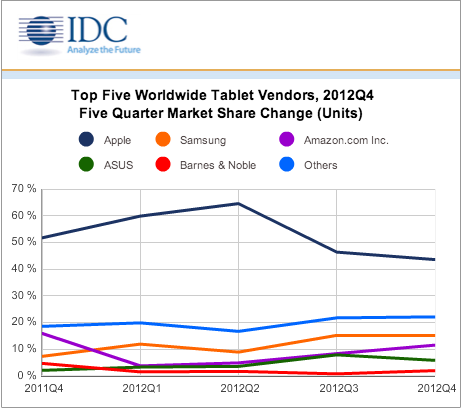 Amazon's (NASDAQ:AMZN) Kindle Fire line accounted for 11.5 percent of the market and was in third place. Asus also grew rapidly, rising by 402.5 percent year-over-year to 3.1 million units for a 5.8 percent share. Barnes & Noble (NYSE:BKS) completed the top five with 1 million units and a 1.9 percent share, but saw a year-over-year fall of 27.7 percent.
Microsoft's (NASDAQ:MSFT) new Surface tablet saw only 900,000 shipments since its launch at the end of October and failed to break into the top five. IDC was of the opinion that Microsoft needed a better market strategy to compete with the established names in the sector.
"We believe that Microsoft and its partners need to quickly adjust to the market realities of smaller screens and lower prices," the research firm's Ryan Reith said in a statement. "In the long run, consumers may grow to believe that high-end computing tablets with desktop operating systems are worth a higher premium than other tablets, but until then ASPs on Windows 8 and Windows RT devices need to come down to drive higher volumes."
Don't Miss: Apple's Siri is Making Friends.