The iPhone is Taking Over
Apple (NASDAQ:AAPL) surpassed Samsung (SSNLF.PK) over the last quarter of 2012 to become the largest mobile phone seller in the U.S. for the first time in its history. According to a new survey from Strategy Analytics, Apple shipped 17.7 million units during the three months ending in December to Samsung's 16.8 million units.
The iPhone maker accounted for a record 34 percent share of the market to Samsung's 32.3 percent. In the fourth quarter of 2011, Apple had shipped 12.8 million iPhones compared to Samsung's 13.5 million smartphone units. The numbers take into account the Korean company's feature phone units as well. Samsung had led the U.S. market since 2008.
"Apple's success has been driven by its popular ecosystem of iPhones and App Store, generous carrier subsidies, and extensive marketing around the new iPhone 5 model," Strategy Analytics' Neil Mawston said in the report.
However, Mawston added that Samsung was likely to regain its top spot this year by releasing new mobile phone models such as the Galaxy S4. The Korean company also has broader product portfolio to Apple, which solely relies on its iPhone upgrades. Samsung is the worldwide mobile phone leader, having sold more than 100 million units last quarter.
In third place in the U.S. was LG, which shipped 4.7 million mobile phones for a 9 percent share, slipping from 6.9 million units and a 14 percent share in the same period in 2011.
Overall, U.S. shipments grew 4 percent to 52 million units from last year's 50.2 million units on the back of high demand for 4G smartphones and 3G feature phones, Strategy Analytics said. However, prior to the holiday quarter, the market had seen nine months of market contraction, resulting in an 11 percent decline year-over-year from shipments of 186.8 million units in 2011 to 166.9 million units in 2012.
Here's how Apple rounded out the trading week technically: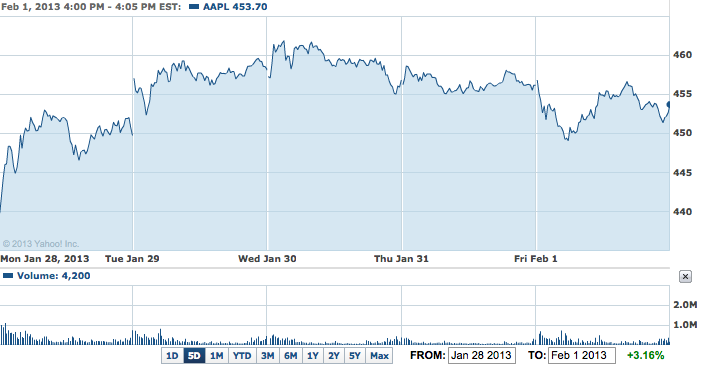 Don't Miss: Is Apple TV Getting This Major Content Deal?