The Light iPad Air Gives Apple a Hefty Profit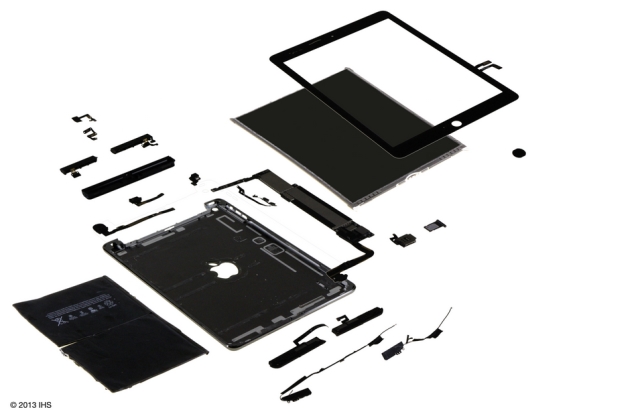 The "thinner and lighter design" of the new iPad Air wasn't the only important change that Apple (NASDAQ:AAPL) made to its flagship tablet device. Besides reducing the weight and size of the iPad Air, Apple also reduced the overall production cost of the new device.
According to a preliminary teardown done by market research firm IHS iSuppli, the new iPad Air has a lower bill of materials than previous iPad iterations. For investors, this equals higher profit margins and improved earnings. IHS iSuppli calculated that the 16GB iPad Air with cellular connectivity has a total bill of materials of $304.
In contrast, Apple's third-generation iPad has a bill of materials of $325. This means that Apple reduced its total component costs by 6.0 percent. The market research firm also calculated the manufacturing cost of each iPad Air to be $6. This gives the iPad Air a total unit cost of $310. However, the cost of the non-cellular version of the 16GB iPad Air was even lower. According to IHS iSuppli's calculations, the total bill of materials and manufacturing cost of the low-end 16GB iPad Air was $274.
"While the iPad Air slims down in size, the profit margins are getting fatter," noted IHS iSuppli senior director Andrew Rassweiler. "Although the Air's new, ultrathin display and touch screen are more expensive than for the third-generation iPad, Apple has held the line on cost by taking advantage of price erosion in other areas. Furthermore, the iPad Air leverages the same components and suppliers that are used in the iPhone 5s and 5c as much as possible."
Apple's typically high profit margins on NAND flash memory allowed the Cupertino-based company to pocket even more money on the higher capacity models. IHS iSuppli noted that the 32GB iPad Air retails for $100 more than the 16GB version, but only costs Apple $8.40 more to produce.
Although this preliminary teardown suggests that Apple has secured a healthy profit margin on its latest tablets, IHS iSuppli noted that this early assessment only includes the hardware and manufacturing costs. The market research firm is still working on a final iPad Air cost estimate that will include "software, licensing, royalties or other expenditures."
Here's how Apple has traded over the past week.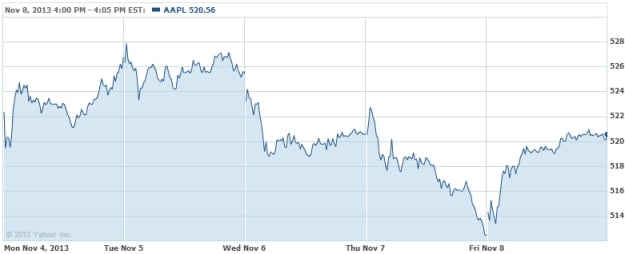 Follow Nathanael on Twitter (@ArnoldEtan_WSCS)
Don't Miss: Time to Get Back in Line: Apple Inventory Tracker Sites Shut Down.