The Men and Women Rumored to Replace Ballmer at Microsoft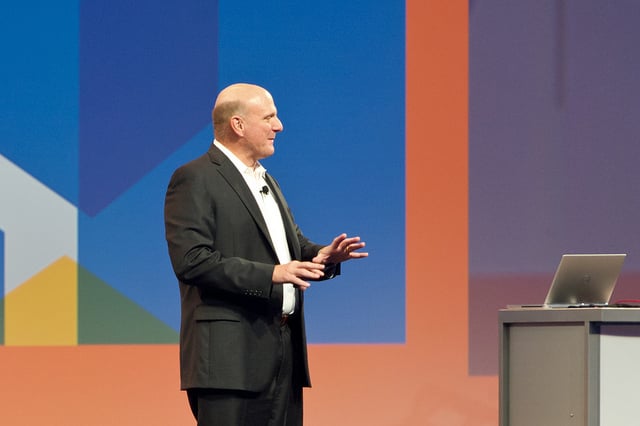 As soon as Microsoft (NASDAQ:MSFT) Chief Executive Officer Steve Ballmer announced last Friday that he will retire within the next 12 months, speculation as to who will replace him began. His replacement is currently anyone's guess; a special committee that includes Bill Gates has 12 months to pick someone, and one British bookmaker is taking advantage of that fact. The online gambling website Ladbrokes is taking bets on who will fill the chief executive's shoes.
Ballmer, who led the company through both the dot-com crash and the late-2000s financial crisis, a period over which annual revenues increased from $25 billion to $77 billion, joined the company in 1980 as its 30th hire and became its CEO in 2000.
As Ballmer indicated in his public notice of resignation, the company needs a chief executive to guide the software maker's efforts to fend off competition from rivals better suited to mobile computing. "There is never a perfect time for this type of transition, but now is the right time," he said in a press release Friday morning. "We have embarked on a new strategy with a new organization and we have an amazing Senior Leadership Team. My original thoughts on timing would have had my retirement happen in the middle of our company's transformation to a devices and services company. We need a CEO who will be here longer term for this new direction."
The markets seemed to think that whoever becomes his replacement will be able to do what Ballmer couldn't: revitalize the company. Shares climbed as much as 9 percent on heavy volume in pre-market trading on the morning of his announcement.
Now, here is a look at who betters think is the most likely person to take over as CEO.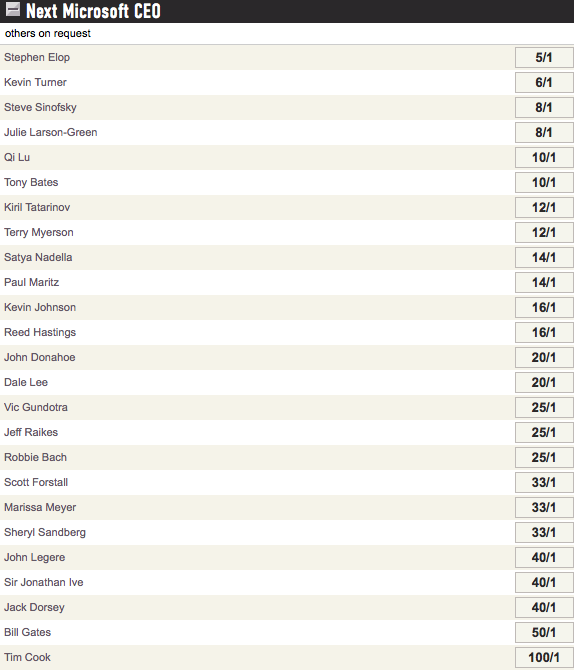 1) Nokia (NYSE:NOK) Chief Executive Officer Stephen Elop is the favorite to become the next Microsoft chief executive, even though Nokia's market value has declined approximately 60 percent during his tenure. When the company hired Elop on Sept. 10, 2010, its shares closed at $9.94; Nokia dropped 0.76 percent to close at $4.00 on Thursday.
Nokia's problems were most accurately summarized two years ago. In an internal memo, Elop likened the company to a man working on a burning oil platform in the middle of the North Sea, whose situation presented a Catch-22: he could either risk death on the "burning platform" or take an equally risky plunge into the freezing water, which could save him.
Elop chose to form a partnership with Microsoft, which was looking for an ally for its new smartphone software. Nokia picked Microsoft's Windows Phone mobile operating software over Google's (NASDAQ:GOOG) Android — a deal that made both companies deeply dependent on each other for their mobile future. Nokia agreed to only use Windows Phone to power its smartphones, while Microsoft pledged to spend billions of dollars on marketing and engineering assistance.
But, even though Windows Phone has surpassed BlackBerry's (NASDAQ:BBRY) platform as the third-biggest smartphone operating system, its sales have continued to stagnate amid competition from Samsung (SSNLF.PK) and other Android-powered smartphones.
The former Microsoft executive has 5-to-1 odds to be hired as Steve Ballmer's replacement.
2) In total, internal candidates and one former company executive account for seven of the next eight names on Ladbrokes' list. Kevin Turner, Microsoft's chief operating officer, is the second-favorite contender, with 6-to-1 odds. Next, with 8-to-1 odds, is Steve Sinofsky, the former head of the company's Windows division, who was replaced by Julie Larson-Green last year after he clashed with executives, including Ballmer, company insiders said at the time. Larson-Green is listed fourth, also with 8-to-1 odds.
Tony Bates, Satya Nadella, Qi Lu, and Terry Myerson, who also populate the top ten candidates, are the leading internal choices to replace Ballmer, as sources told Bloomberg. The have odds ranging from between 10-to-1 and 14-to-1.
3) Netflix (NASDAQ:NFLX) Chief Executive Officer Reed Hastings was given 16-to-1 odds by Ladbrokes. His inclusion on the list of possible contenders may seem surprising, but his leadership would help Microsoft expand its business into entertainment. The company is in the process of converting its Xbox gaming console into a multipurpose Internet-connected device. The Xbox One will be competing with Sony's (NYSE:SNE) PlayStation 4, and both products will be released this fall.
Microsoft has continued to tweak the Xbox One even after releasing specs on the device. After the first specs for the PlayStation 4 and the Xbox One were announced, it seemed as though Sony's console would be the better machine. But, Microsoft announced an upgrade in the system's graphics processing unit earlier this month, so even though Sony had better initial specs, it seems Microsoft could continue improving its machine up until the release.
Already, the system allows users to watch videos from Internet-streaming providers like Netflix.
4) With 33-to-1 odds, Facebook (NASDAQ:FB) Chief Operating Officer Sheryl Sandberg and Yahoo's (NASDAQ:YHOO) Marissa Mayer are riskier bets.
Mayer is currently grabbing Wall Street's attention as, for the first time since May 2011, Yahoo surpassed Google — Mayer's old employer — in the number of unique monthly visitors. When Yahoo announced quarterly earnings late last month, what she pulled off was nothing short of a CEO's dream. At first look, Yahoo's revenue dipped scared investors, who pushed the stock down by more than 2 percent in after-hours trading, but during the earnings conference call Mayer rationalized the revenue dip and clearly confirmed that Yahoo is on track to execute its turnaround plans to be more of a tech company such as Google, rather than an old-school media company.
Mayer went on to systematically explain how each division was performing, the improvements those divisions made under her tenure, and the improvements investors should expect in the coming quarters. This is exactly what investors want to hear after betting on a turnaround CEO. Moreover, Mayer did what other turnaround CEOs often fail to do: she never used a victim's tone or sounded like she was making excuses. Instead, she hammered home details with supreme confidence and passion for the process and the team delivering the results.
Shares of Yahoo have advanced more than 37 percent so far this year, although they were up over 75 percent prior to the earnings report.
5) Apple (NASDAQ:AAPL) Chief Executive Officer Tim Cook is the only more unlikely candidate on Ladbrokes' list than Microsoft co-founder Bill Gates. Even though company insiders have said Gates is not being considered for the job, he has been given odds of 50-to-1. As for Cook, while his 100-to-1 odds are extremely long, they are actually slightly better than anyone's chances of winning $4 with a Powerball lottery ticket.
However, Cook has not been getting much favorable press. Just one day ahead of Apple's second-quarter earnings release, Matthew Panzarino of tech news site The Next Web, tweeted the message, "Fire Tim Cook!" His reasoning was a little skewed as he included a link in his tweet to a couple charts showing the steady upward momentum of Apple's revenue and profit over the last few years, for most of which the company was led by none other than Tim Cook. But this particular line of thinking has not exactly been wiped away after a rough year.
In the past 12-month period, Apple shares have lost more than 25 percent of their value, and analysts have been stuck on the stock's poor performance for months. Alongside that stock market dip, the criticism that Apple has lost its innovative touch have fallen fast and furious on the company. While it has long been seen as a company capable of creating one category-defining product after another — and in fact, Apple build its reputation on that type of creativity — analysts have put forward the thesis that founder Steve Jobs' absence can be seen in the company's product pipeline, which, according to their assessments, is populated by nothing but product refreshes which will likely curb growth in future quarters.
Follow Meghan on Twitter @MFoley_WSCS