The Steve Jobs Negotiating Strategy: My Way or the Highway
Many of Apple's (NASDAQ:AAPL) email records are now publicly available for perusal thanks to the U.S. Department of Justice's antitrust lawsuit against the Cupertino-based company. Naturally, some of the most interesting emails are the ones written by Apple's legendary CEO Steve Jobs.
Is Apple now a once-in-a-decade buying opportunity? Click here to get your 24-page Ultimate Cheat Sheet to Apple's Stock now!
While Apple may dispute the government's assertion that these emails prove that Steve Jobs was engaged in orchestrating an e-book price-fixing conspiracy, no one can dispute that these emails prove that Jobs was a masterful negotiator. In fact, Jobs appears to be so good at negotiating that he never seems to yield an inch to his adversaries, who eventually capitulate without earning a single concession.
Case in point is Steve Jobs's negotiation with News Corp. (NASDAQ:NWS) executive James Murdoch. At the time Apple was trying to work out a favorable e-book deal with HarperCollins, which was owned by News Corp.
Essentially, Apple was seeking across-the-board e-book pricing at $12.99, which was $3 more than Amazon's (NASDAQ:AMZN) standard e-book price of $9.99. Apple was also seeking a 30 percent cut of each sale and "holdback" rights if HarperCollins couldn't agree on a particular e-book price with Apple.
HarperCollins CEO Brian Murray outlined his concerns with all these stipulations in an email to Apple executive Eddy Cue. News Corp.'s James Murdoch later reiterates these concerns in an email to Jobs.
Jobs's email reply attacks Amazon's e-book pricing as not "sustainable for long." Rather than backing away from Apple's demand for a $12.99 standard e-book price, Jobs seems to argue that Apple's offer is low and that e-book prices should actually be "$16.99 or even higher."
NEW! Discover a new stock idea each week for less than the cost of 1 trade. CLICK HERE for your Weekly Stock Cheat Sheets NOW!
Jobs also promises Murdoch that Apple will "sell more of our new devices than all of the Kindles ever sold during the first few weeks they are on sale. If you stick with just Amazon, Sony (NYSE:SNE), etc., you will likely be sitting on the sidelines of the mainstream e-book revolution." He also bluntly reminds the News Corp. CEO that "Apple's iTunes Store and App Store have over 120 million customers with credit cards on file." Jobs then strongly hints that HarperCollins might be left out in the cold by letting Murdoch know that Apple has "4 of the 6 big publishers signed up already."
Murdoch's email response indicates his willingness to work with Apple but he also notes that "a 'take it or leave it' set of terms" is not moving the conversation forward. However, Jobs's final email response restates Apple's unyielding position and asks HarperCollins to "Throw in with Apple." Jobs then concludes with a statement that very well sums up his negotiating approach, "Maybe I'm missing something, but I don't see any other alternatives. Do you?"
HarperCollins agreed to Apple's terms one day before the iPad was announced. HarperCollins' e-books were featured in the iBookstore, and as Jobs promised, the iPad vastly outsold the Kindle.
NEW! Discover a new stock idea each week for less than the cost of 1 trade. CLICK HERE for your Weekly Stock Cheat Sheets NOW!
Here's how Apple has traded so far this week.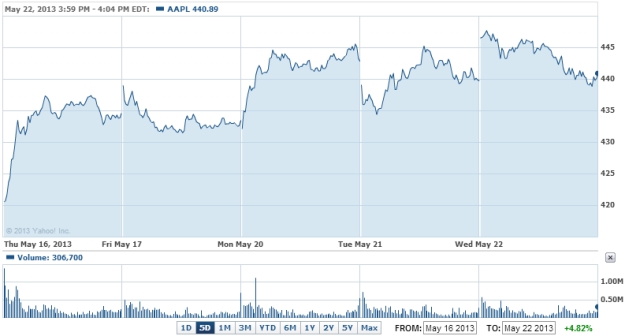 Follow Nathanael on Twitter (@ArnoldEtan_WSCS)
Don't Miss: Is the iPad Winning In E-Commerce?